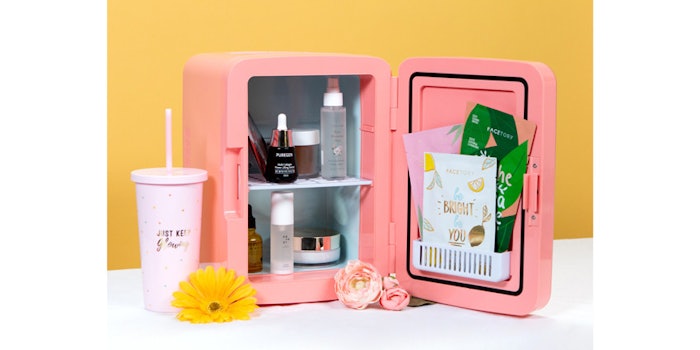 The FaceTory Fridge was created by K-beauty subscription brand FaceTory to ensure that skin and body care products stay effective and last longer. 
According to the brand, the launch of the fridge "visited the idea that skin and body care no longer have to be seen as a chore but instead can be seen as a time to pamper and cater to the health of the skin."
The coral pink skin care fridge has:

A 10-liter capacity;

Three removable shelves;

Warm and cool temperature options; and

AC/DC cables.
Janice Chang, Head of Marketing, said, "Improving the experience of skin care is definitely something we want to encourage, and having a dedicated place to store skin and body care items is essential. Some items are temperature sensitive and must be stored away from heat, sunlight and humidity, yet the majority of people store their skin care in their restroom or in their actual fridge where bacteria can accumulate and contaminate products without the consumer knowing. By having a reliable and sturdy place dedicated to their items, skin and body care products can be safely stored away, reviving the experience of the items as well as potentially extending the shelf life of products."