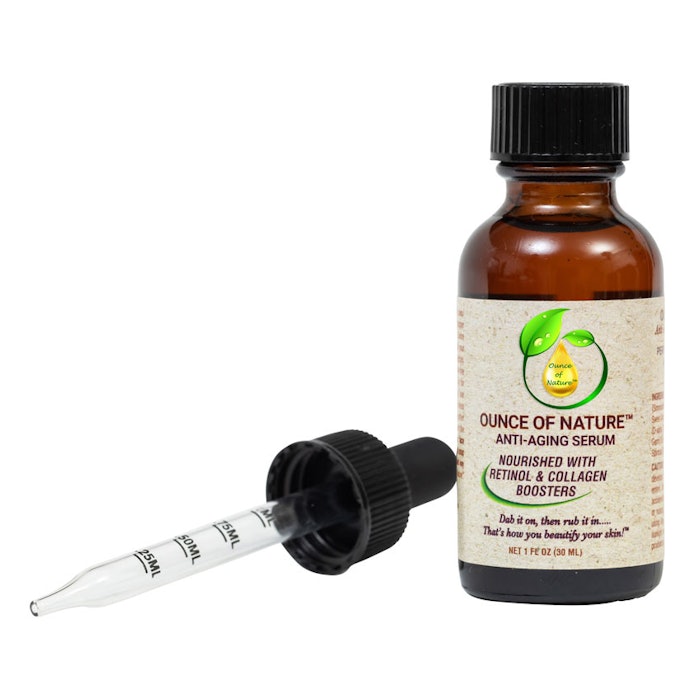 Ounce of Nature's botanical product line is now available at OunceOfNature.com and Amazon.
The skin care brand, which is reportedly hand-crafted with sustainably sourced ingredients, helped to kick-start a Brooklyn-based anti-aging spa. The brand is headlined by an essential oil anti-aging serum, said to diminish the appearance of fine lines and wrinkles in 30 minutes. 
According to Ounce of Nature, the line features a proprietary blending technique, which in the serum, activates the collagen-boosting qualities in a perfect balance of essential oils carried in a luxuriously nourishing Jamaican castor nut oil. 
The skin care brand's product offering includes:
Anti-aging Serum
CBD Anti-aging Serum (retailed only in its Brooklyn Facial Spa)
Hyaluronic Acid Facial Hydrator with Retinol
Wildflower Honey, Aloe & Oatmeal Mask
Green Teat Anti-aging Facial Toner
Antioxidant Hydrating Cleansing Mousse
Bioflavonoid Facial Toner
Intensive Youth Serum

 

Rapid Recovery Sleeping Masque
Deep Detox Mud & Charcoal Masque
Exfoliating Sea Sponge