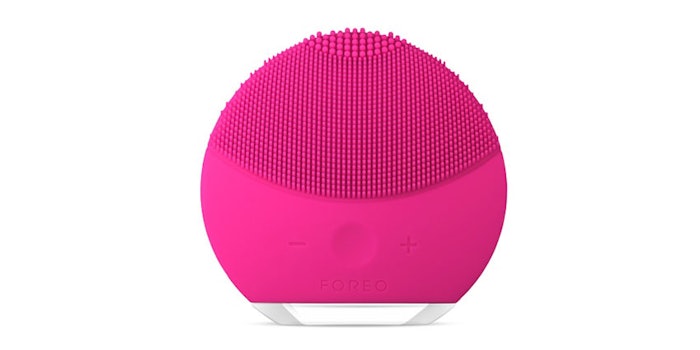 Sweden-based skincare device company, Foreo, has announced the debut of its third facial cleansing device, the T-Sonic Luna mini. This device combines silicone brush surfaces and T-Sonic pulsations in order to cleanse the skin of dirt and makeup in a deeper and gentler way, all in an estimated one-minute process.
The Details
The T-Sonic technology allows for 8,000 pulses per minute.
There are more than 1,000 touch points on the silicone cleansing brush. The thicker touch points were created for users with oilier skin while the thinner touch points were made for those with sensitive skin.
The Luna mini was designed with all skin types in mind and to be used with all standard nonabrasive cleansers, gels and creams.
The device is waterproof and can be used over 300 times from a single charge.
"The Luna mini is revolutionary in the fact that it goes to the very foundation of your skincare routine-showing it's less about what cleanser you use, but how you cleanse that counts. Our hands can only do so much when it comes to washing our faces, but the Luna mini will bring consumers results they've only ever dreamt of," said Foreo's global brand manager, Teun Hanegraaf.
The Luna mini retails for $99.00