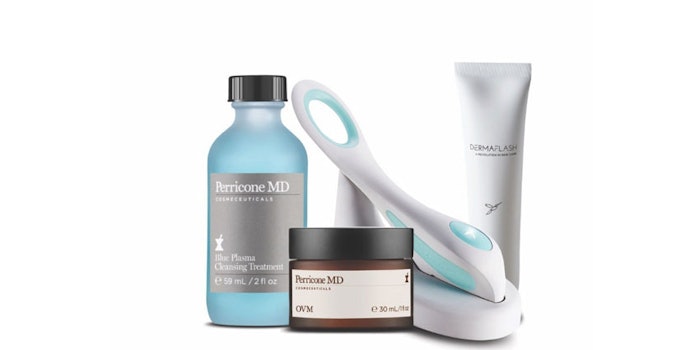 Skincare brand Perricone MD and at-home facial technology company Dermaflash have teamed up for a limited time to create the Ultimate Exfoliation & Treatment System. This new system is an at-home resurfacing device and age-defying regimen that aims to remove dead skin cells, built up debris and even peach fuzz on a woman's face. It also provides an anti-aging treatment for all skin types.
Both Dermaflash and Perricone MD recommend the daily use of this new regime to help promote hydrated, firmer-looking skin with less wrinkles.
The Four Step System 
Step 1: Users prep their skin with the Dermaflash pre-treatment cleanser that helps remove oil from the skin and prepare for the remainder of the treatment.
Step 2: Users utilize Dermaflash to clear away dead skin cell, dirt, makeup and debris that have built up on the skin.
Step 3: Users cleanse with the Perricone MD Blue Plasma Cleansing Treatment to hydrate and clean the skin.
Step 4: Users finish with the Perricone MD OVM treatment. This treatment contains eggshell membrane, vitamin C ester and vitamin E to help increase hydration.
The retail price is $229 and can be purchased at perriconeMD.com, dermaflash.com, Sephora.com, QVC.com, Nordstrom.com and select Nordstrom stores while supplies last.