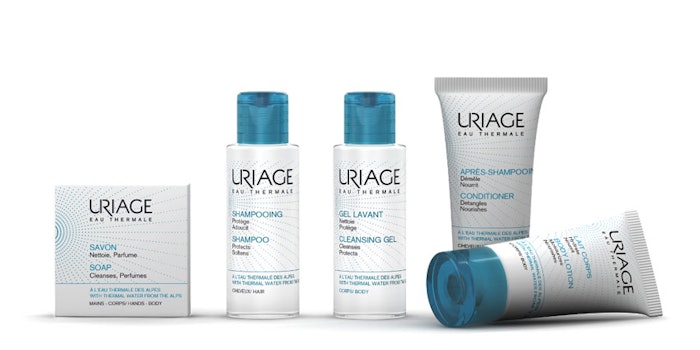 Groupe GM has signed an exclusive agreement with the French skin care brand Uriage. Present in over 70 countries and a key player in the hospitality amenity industry, the agreement will see Groupe GM lead the distribution of a completely new amenity line to luxury hotels all over the world beginning February 2017.
The new product range features 40 mL shower gel and shampoo bottles, and 30 mL conditioner and body lotion tubes, enriched with shea butter, keratine silk, olive oil and aloe vera. Additionally, liquid soap and hair and body gel in 300mL bottles will be distributed, as well as two cardboard soaps consisting of a botanical soap base in 20g and 40g sizes. The line is free from parabens, silicon, MIT and coloring agents.
"We are delighted to announce this partnership and have no doubts that our clients all over the world will be equally enthusiastic to discover this new brand in our rich product portfolio," said Laurent Marchand, president of Groupe GM. "Mirroring our own ethos, Uriage combines the three key values of natural, authentic and dermatological expertise, making it a perfect addition to our range of more than 30 brands."
Renowned for its dermatological and beauty expertise, Uriage utilizes the dermatological virtues of its Thermal Water, which is the essential active ingredient in all its skincare.