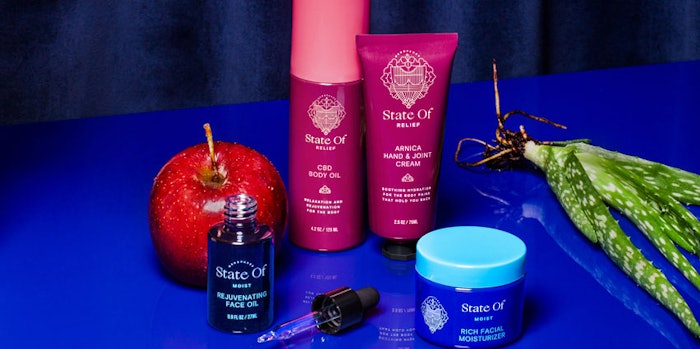 State Of is a new line of beauty and self-care products created specifically for the multifaceted hormonal experience of perimenopause and menopause, according to arfa Collective.
Further reading: Drink Your Wrinkles Away with Swisse Wellness
The new product line aims to normalize menopause by providing products that make the hormonal changes more comfortable. 
Each product reportedly contains clinically proven ingredients with potent, plant-based actives and is formulated with vegan and cruelty-free ingredients.
Products in the collection include:
State of Moist
State Of Rich Facial Moisturizer: Peptide-packed moisture for hydrated, healthy skin
State Of Whipped Body Cream : Nourishes skin and locks in moisture
State Of Rejuvenating Face Oil: Potent, plant-based oil blend replenishes skin overnight
State of Cool
State Of Cooling Facial Moisturizer : Lightweight hydration that soothes and cools skin 
State Of Cooling Spray : A botanical burst of cooling refreshment for flushed, overheated skin
Evening Primrose Oil Supplement : A daily dose of healthy fatty acids for women's health
State of Repair
State Of Hydrogel Face Mask: Spa-worthy, soothing moisturization for thirsty skin
Skin, Hair & Nails Supplement - A daily dose of nutrition for your skin, hair and nails
State of Relief
State Of Lavender Bath Salts : Detoxifying, mineral rich bath soak to relax and rejuvenate the body and mind
State Of CBD Body Oil : CBD powered oil blend calms and hydrates skin 
State Of Arnica Hand & Joint Cream : Arnica-infused cream provides potent, immediate muscle and joint relief
Turmeric Supplement: A daily dose of plant based, antioxidant rich protection
Ariel Wengroff, co-founder, chief content and community officer at arfa, told Global Cosmetic Industry:
We're meeting these women where they are. After conversations with our arfa Collective, it was clear that most people experiencing perimenopause and menopause, at any stage, couldn't find products or brands addressing the hormonal changes their bodies were going through without also making them feel bad for aging.
State Of was created, tested and developed by these same arfa Collective members that were willing to share their personal menopause journeys. They were involved in each key decision as we built the collection and the brand. Core to our mission at arfa, we see the opportunity in uniting people in micro-communities to ignite large-scale impact.