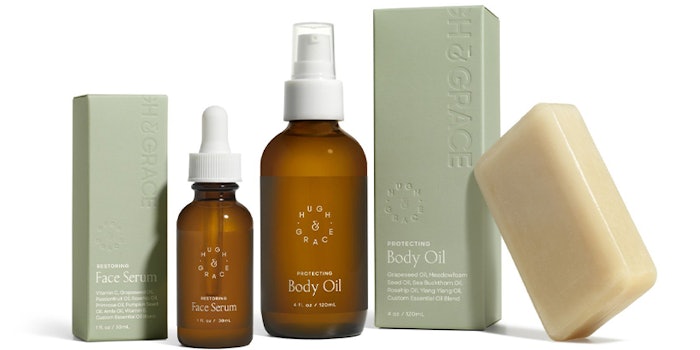 Hugh & Grace has debuted its first line of skin care products, formulated without chemicals that, according to the brand, disrupt and interfere with hormone signaling.
Related: Beiersdorf Launches Chaul Skin Care
The plant-based collection centers around detoxification, repair and protection of the skin, with each product said to work synergistically for a holistic skin care regimen.
The collection includes:
Restoring Face Serum, free from synthetic-fragrance and wax, the serum is said to brighten skin.
Renewing Night Serum, a hydrating serum designed to help with smoothing and clarifying the skin.
Protecting Body Oil, a hydrating  body oil that protects and strengthens skin, creating a natural barrier between the skin and the elements. 
Purifying Cleansing Bar, formulated to cleanse, detox, and buff away impurities as well as re-balance skin. The bar is formulated with adaptogen extracts. 
All products are cruelty-free, vegan, and pregnancy safe and range from $15 to $95 each.
Hugh & Grace co-founder and co-CEO Ben Jensen said, "As a result of our journey and extensive research with renowned doctors, we knew we needed to create a solution through awareness, education and products, and we're thrilled to present our first-of-its-kind skincare concept to widely address the truth about hormone disruptors. Driven by our products, activated through knowledge and carried forward with grace, our mission is to reduce chemical exposure and inspire and equip people to live cleaner, healthier lives with high-performing, luxurious ingredients to help promote skin immunity, resiliency and beauty, naturally."
Active Ingredients (Restoring Face Serum): Vitamin C, Grapeseed Oil Passionfruit Oil, Rosehip Oil Primrose Oil, Pumpkin Seed Oil, Black Cumin Seed Oil, Amla Oil, Vitamin E, Custom Essential Oil Blend