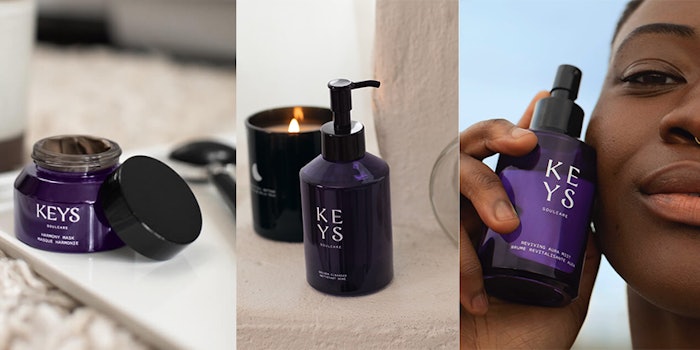 Alicia Keys has announced the product line-up for her skin care brand, Keys Soulcare. 
Related: cbdMD, Inc. Enters Beauty, Skin Care Market
The skin care line is developed in partnership with a board-certified dermatologist and will be available for global shipping at the end of January, 2021.
The product launches include:
Skin Transformation Cream (available fragrance-free), a hydrating face cream that helps reveal plumped and radiant-looking skin.

Developed in partnership with a board-certified dermatologist, this rich ceramide face cream hydrates and purify and said to center the spirit. A plant-based alternative to retinol, backuchiol is an antioxidant-rich exfoliator that helps improve the look of tone and texture. 

Be Luminous Exfoliator, a restorative, water-activated exfoliating powder.

Developed in partnership with a board-certified dermatologist, this restorative, water-activated exfoliating powder transforms into a creamy foam with microgranules that gently buff away dullness. It is formulated with green tea that's rich in antioxidants, hojicha powder which provides non-stripping exfoliation which, along with mung beans and oats that helps promote a softer, smoother texture.

Golden Cleanser, a delicate, soothing facial pore cleanser.

This cleanser uses antioxidant-rich manuka honey from New Zealand, soothing turmeric and calming chamomile to purify the skin and spirit by gently removing dirt, makeup and impurities.

Reviving Aura Mist, a naturally rose-scented, revitalizing skin mist.

This rose-scented skin mist hydrates, tones and revives the skin by using witch hazel and rose of Jericho to help lock in moisture while the scent of rose calms, balances and resets your consciousness. 

Comforting Balm, a soothing skin balm for the face and body.

This vanilla-scented skin balm is lightweight and hydrating, packed with camellia seed oil, rose of Jericho, avocado oil and shea butter to help renew the look of dull and dehydrated skin with vital hydration. 

Harmony Mask, a purifying full face mask scented with soothing sandalwood.

This sandalwood-scented full face mask purifies and balances to restore harmony to your skin and your soul. The manuka honey is a potent and purifying antioxidant that helps draw moisture into the skin for long-lasting hydration while the activated charcoal is a purifying agent that helps balance the look of skin and gold foil to restore harmony and radiance.