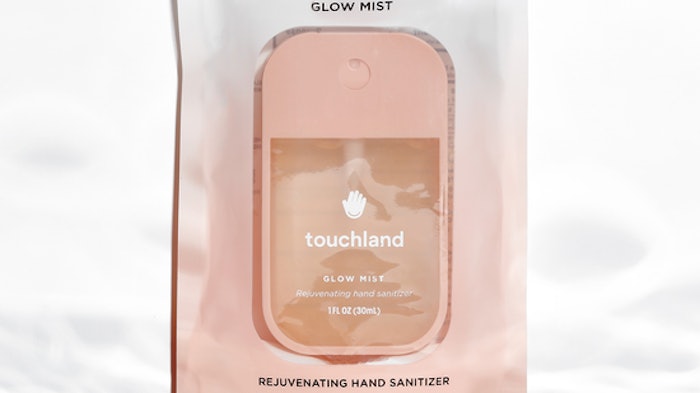 Touchland has launched the Glow Mist Rejuvenating Hand Sanitizer with anti-aging properties. Glow Mist combines Touchland's formula with Provital's Vitasource and Detoskin, two skin care actives that detoxify skin and boost collagen production to visibly restore a youthful glow.
Related: Formulating on Trend: Hand Sanitizer
According to clinical studies cited by Touchland, 97% of respondents indicated that Glow Mist made skin appear healthier, smoother and firmer after continued use.
Among respondents, 94% claimed their skin felt rejuvenated and 89% agreed that the product reduced signs of aging after four weeks of continued use.
Glow Mist features a rosewater scent profile with top notes of lychee, strawberry and blackcurrant buds, middle notes of rosewater, rose petals and pink peony and base notes of orris, musk and ambrette seed.
It is packaged in the standard Touchland case, with a new dusty rose-colored dispenser and wrapped in a non-resealable, stand-alone pouch with a clear window display.
Like all Touchland products, the Glow Mist is vegan, cruelty-free and formulated without parabens, sulfates and triclosan.
Additional products in the Glow Mist collection are currently in development.
Touchland Glow Mist costs $16; available at Sephora and touchland.com.
Andrea Lisbona, CEO of Touchland, said, "Our hands are in constant use, so when it comes to the health of our skin, it's important to nourish it with beneficial nutrients and ingredients that can counteract those visible signs of damage and aging. We are thrilled to be introducing the brand-new Glow Mist range to the Touchland family, which will bring our portfolio of products to another level while providing our customers with the same continued value they've come to know and love."