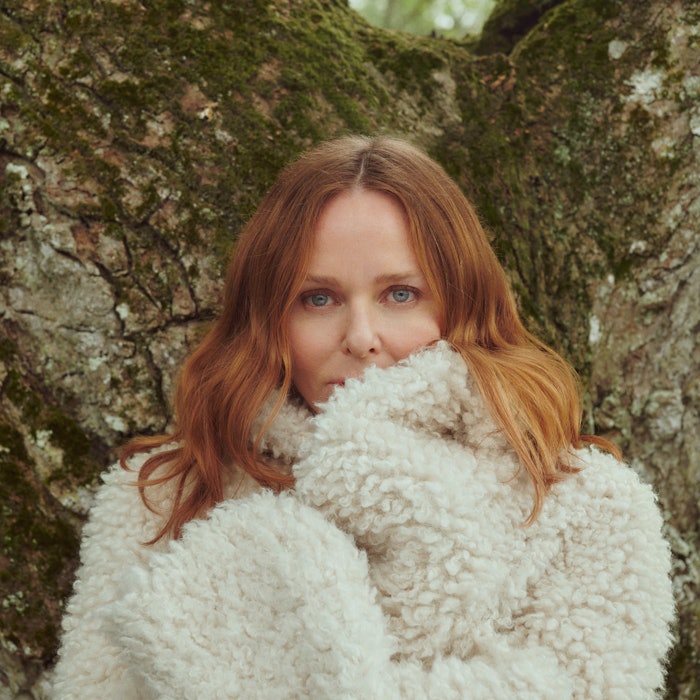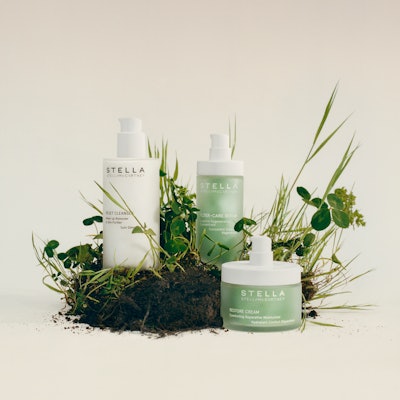 Fashion designer Stella McCartney has introduced Stella, a clean and minimal skin care line that she developed in partnership with LVMH.
Aligning with the ethos of her eco-friendly luxury fashion line, McCartney worked with LVMH's research and develop team for two years to create Stella as a "conscious luxury" skin care line that takes a clean and minimal approach.
The vegan and cruelty-free products feature clinically-tested formulas made from natural-origin ingredients that don't overstimulate the skin. Each product has been formulated to work in harmony with the skin, supporting its key function of regeneration and protection, according to the company.
Staying true to McCartney's minimalist philosophy of "using only what you need," the Stella skin care line keeps it simple with three products: The brand will debut with a serum, cleanser and moisturizing cream. 
The Reset Cleanser melts away makeup and impurities from the surface of the skin while respecting its pH. The gentle formula can be used over the eye area and leaves skin feeling soft, supple and hydrated.
The Alter-Care Serum improves skin tone and texture by deeply nourishing and renewing the skin while reinforcing the barrier with ingredients that are rich in essential nutrients.
The Restore Cream is a lightweight moisturizer that hydrates the skin, strengthens the skin's protective barrier, visibly reduces lines and wrinkles, and improves elasticity.
Rooted in nature and inspired by McCartney's childhood in rural Scotland, Stella products are formulated with 99% natural-origin ingredients that don't pollute the environment during the production or extraction process.
Synthetic ingredients, which are needed to preserve the integrity of the products over time, make up less than 1% of the products, per the brand.
The formulas center around active, natural-origin extracts to deliver clinically-proven results:
Organic rock samphire offers a retinol-like action. It is rich in unsaturated and saturated fatty acids and phytosterols to smooth fine lines and wrinkles.
Biotechnological lingonberry extract is a superfood skin care ingredient with polyphenols to help restore an even complexion and support elasticity and visible firmness.
Wild organic birch sap helps to hydrate and restore visible firmness with minerals, sugars and vitamin C.
Wild harvested dulse algae extract is rich in polysaccharides and helps to reduce the appearance of dark circles and restore an even skin tone.
Olive squalene is naturally derived and helps to reinforce the skin's protective barrier.
Natural-origin hyaluronic acid is a renowned hydrator that locks in moisture for smoother, plumper skin.
Cherry blossom extract contains polyphenols and glucosides, which helps to even skin tone while supporting the skin barrier.
Stella also seeks to reduce its environmental impact by using refillable packaging. The products come in recyclable pouches made of certified renewable sources and are inserted into bottles and jars made from recycled glass. The bottles and jars include reusable pump kits made of reprocessed ocean-bound plastic feedstock. The airless pump ensures every last drop of the product can be used.
Once products are empty, users can recycle the pouches. Then they buy the products again in the refill pouches and place them inside the bottles or jars they already have.
Customers can purchase the products in the reusable glass containers and pouches or just the refill pouches:
Reset Cleanser: $60 per 150 ml; refill $45
Alter-Care Serum: $140 per 50 ml; refill $110
Restore Cream: $105 per 50 ml; refill $85
To further reduce its carbon footprint, Stella is shipping products to the United States by sea instead of flying.
In addition, Stella will donate 1% of its net sales to Wetlands International, a global nonprofit organization that works to sustain and restore wetlands. Peatlands, which are a type of wetland, are the largest carbon store on earth and cover about 23% of Scotland's land mass. However, almost 80% of the Scottish peatlands are in a state of degradation. The partnership with Wetlands International will support on-going regeneration projects and restoration efforts.
The Stella line of products will be available in early September at www.stellamccartneybeauty.com.