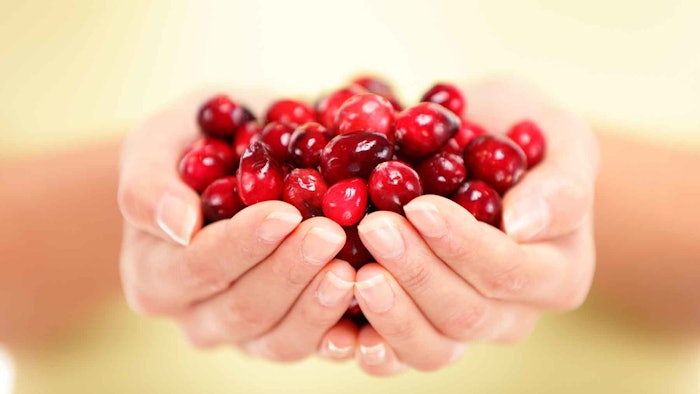 Recent research published in ACS Applied Materials & Interfaces describes the development of an antiviral, antibacterial and antifungal lip gloss empowered by cranberry extract. Ángel Serrano-Aroca, Ph.D., a professor in the biomaterials and bioengineering lab - CITSAM, at the Universidad Católica de Valencia, and co-author on the study, described it.
See related: Cranberry Seed Oil Nanoemulsion Delivers Hope for Skin Disorders
"We knew that cranberry extracts are used in some drugs to treat urine infections and have shown antiviral activity against enveloped viruses such as the herpes simplex virus type 1 (HSV-1) and type 2 (HSV-2) due to the presence of antimicrobial A-type proanthocyanidins (PACs) that provoke alterations of their envelope glycoproteins. Therefore, we mixed cranberry extract into a lipstick cream base, which contained shea butter, vitamin E, provitamin B5, babassu oil and avocado oil."
He noted the base formula was taken from a commercial lipstick cream base containing the same ingredients to provide typical product characteristics. This was used as the reference material to create lip gloss with and without antimicrobial properties.
See archived: Testing Tactics in Skin; Antiviral Response
In experiments, the creams were added to cultures containing different viruses, bacteria and one fungal species. "Both enveloped and non-enveloped virus types were completely inactivated within a minute of contact with the cranberry-containing cream," he said. "And the multidrug-resistant bacteria, mycobacteria and fungus were substantially inactivated within five hours of applying the cream. Therefore, the novel lipstick formula could offer protection against a variety of disease-causing microorganisms."
According to the article abstract, this work responds to the COVID-19 pandemic-driven race to find materials that could help to limit or stop the spread of SARS-CoV-2. Cranberry extract reportedly inactivates a broad range of microorganisms: enveloped viruses such as bacteriophage Φ6, a surrogate of SARS-CoV-2; non-enveloped viruses including bacteriophage MS2; multidrug-resistant bacteria like methicillin-resistant Staphylococcus aureus, Escherichia coli and Mycobacterium smegmatis, a surrogate of Mycobacterium tuberculosis; and the Candida albicans fungus.
The proposed antimicrobial lipstick offers a new form of protection against enveloped and non-enveloped viruses, bacteria and fungi. Although its long-term stability has not yet been explored, according to Serrano Aroca, since PACs are quite stable compounds, "if the lipstick cream is not subjected to drastic conditions (high temperature and strong UV light radiation), they should stay active for a very long time."
In terms of next steps, the researchers hope to find a cosmetic company interested in incorporating this antimicrobial bio-based technology into products, to work together to translate this knowledge from the lab to industry.
"We will have to adapt this knowledge to their products and perform a deep study with the final products regarding antimicrobial activity against viruses, bacteria and fungi," Serrano Aroca adds.