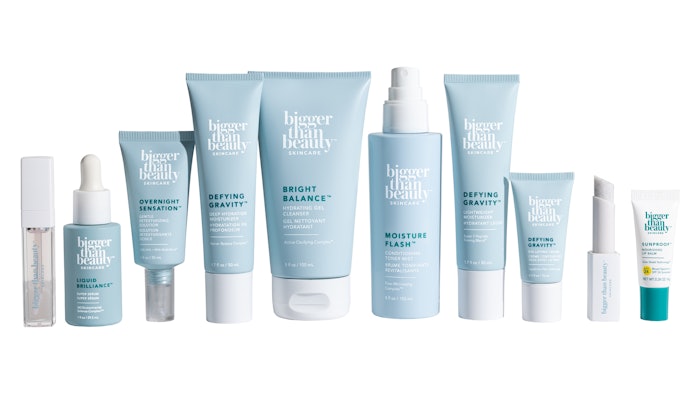 Bigger Than Beauty Skincare, from Karissa Bodnar, founder and CEO of Thrive Causemetics, has debuted with 10 products that are efficacious, dermatologist-tested, vegan and cruelty-free.
The product range comprises some retooled SKUs from the Thrive Causemetics brand, featuring updated packaging resulting in a 40% reduction of plastic, per the company.
The skin care brand will continue to contribute to Thrive Causemetics' 500 giving partners.
The range, which varies in price from $18 to $59, includes the following:
Bright Balance Hydrating Gel Cleanser, featuring the brand's brightening Active Clarifying Complex, pineapple enzymes and antioxidant-rich plant extracts   
Moisture Flash Conditioning Toner Mist, featuring the brand's Pore-Minimizing Radiance Complex (fruit and plant enzymes), hyaluronic acid, sea buckthorn fruit oil, prickly pear extract and vitamin E
Liquid Brilliance Super Serum, featuring ferulic acid, niacinamide and sodium PCA for a visibly healthier-looking, glowing complexion.
Defying Gravity Lightweight Moisturizer, featuring hyaluronic acid, the brand's Ceramide Line-Smoothing Complex and Super 7-Peptide Firming Blend
Defying Gravity Deep Hydration Moisturizer, featuring the brand's  Barrier Restore Complex     
Defying Gravity Eye Lifting Cream, featuring the brand's Liquid Line Filler Technology
Overnight Sensation Gentle Retexturizing Solution, featuring a 10% AHA + BHA blend and vegan squalane
Pout Hero Liquid Balm Lip Treatment, featuring the brand's Powered by Lip Filler Technology and botanical extracts
Pout Hero Exfoliating Lip Scrub, featuring exfoliating sucrose and coconut powder and the brand's Smoothing Enzyme Complex
Sunproof Nourishing Lip Balm SPF 24, featuring the brand's Solar Shield Technology and mango seed butter and pomegranate 
"It has always been a dream of mine to create a standalone, universal skin care line that is truly inclusive of everyone," says Bodnar. "Bigger Than Beauty represents why I started Thrive Causemetics initially–to make every person feel confident and empowered and that is my hope for everyone using Bigger Than Beauty products. We listened to our beloved communities' feedback, online and in our DMs, and made impactful changes they requested to create an improved line. I'm proud to say Bigger Than Beauty skin care products now come in more sustainable packaging, and we removed certain ingredients and added additional powerhouse ingredients and nourishing naturals to make the products more effective."
Dermatologist Daniel Levy, MD, says, "Bigger Than Beauty Skincare is packed with proven, innovative formulas that deliver powerful ingredients and transformative results. I recommend this to my clients because the formulas are designed to enhance and prolong in-office services. I love this line because it gives anyone the power to customize their own professional-grade routine at home and see real results efficiently."