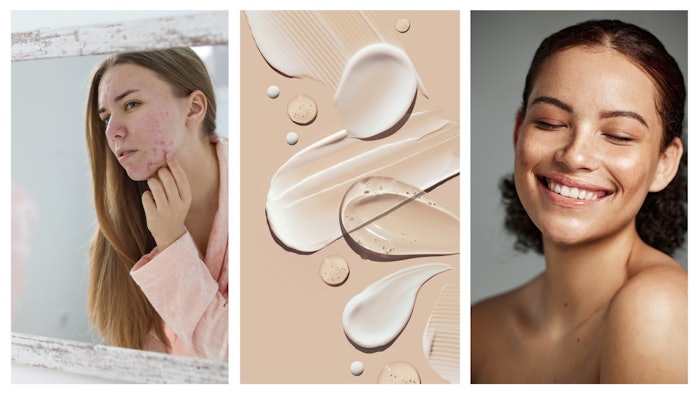 No one likes acne. It's a perennial search topic among consumers, including hormonal acne, per Spate.
Acne can also impact mental well-being, according to some research.
But there are solutions. During "Acne Unfiltered: Exploring the Hidden Impact of Acne and Solutions for Post-Acne Conditions," taking place at 2:00 p.m. Eastern on June 28, a team of experts will provide insights into the impact of acne on consumers, both physical and psychological, and explore solutions to not only address the acne problem but also its peripheral conditions like:
Post-inflammatory hyperpigmentation
Post-inflammatory erythema
Scarring
The session is a must-attend for formulators, brand owners, product developers, consumers dealing with acne and more.
Registration is now open, and free.
Part 1, "Unlocking Acne Solutions for Skin Care Innovators," presented by Cilver Coleman, Technical Marketing Specialist for Vantage Personal Care, will define the challenge for consumers with acne, address the physical and psychological impact of peripheral acne conditions, and explain the science behind innovative solutions that align with the latest consumer insights to help your customers achieve clear, healthy-looking skin.
Part 2, "Clear AF Solutions for Acne & Post-Acne Conditions," presented by Beth Dobbins, Director of Marketing & Digital Strategy at AcneFree, LLC and Donna McCann Director of Research Development at AcneFree, LLC, will address the confusion around acne-prone skin. The experts will discuss AcneFree, a skin care brand dedicated to providing solutions for treating acne and addressing post-acne concerns at an affordable price. Dobbins and McCann will also outline what the brand offers and how it commits to helping consumers create a simple, treatment focused routine.
Key topics covered include:
Consumer concerns: face/body acne and post-acne marks
The key ingredients and their perception by consumers: benzoyl peroxide, salicylic acid, sulfur, retinoids (adapalene and retinol)
AcneFree's solutions: kits, spot and body acne solutions
A post-acne ingredient review by Vantage