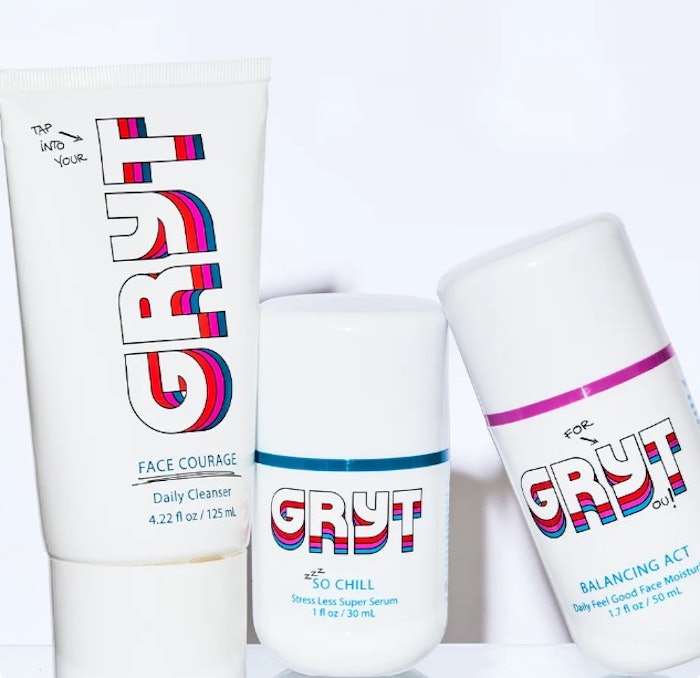 Gryt has launched a skin care line for teens/tweens that combines the founders' expertise in brain health optimization, functional wellness, public health and education, brand development, and hard-won lessons learned parenting children of their own.
Co-founders Caroline Kusnetz, Carly Kaufman and Kathryn Beaton are changing the narrative around puberty starting with this collection and extending to on- and offline resources to support parents and teens in achieving enduring mental and physical health.
The proprietary collection is dermatologist-tested and pediatrician-approved, featuring science-backed ingredients thoughtfully formulated with integrity for puberty-related complexion challenges and packaged using partial post-consumer plastic.
Each product is EWG Verified, hypoallergenic, non-comedogenic, vegan and created for all genders and skin types:
The collection includes:
Face Courage Daily Cleanser: A low pH formula that removes surface oil and dirt without stripping skin of its essential moisture.
Balancing Act Daily Moisturizer: It creates a natural skin barrier that keeps acne at bay and regulates skin oils with a robust combination of jojoba oil, vitamin B3, probiotic ferment, bisabolol and squalene.
So Chill Nighttime Serum: Designed to be layered over moisturizer before bed to help clear and soothe skin with acne-fighting salicylic acid, plus inflammation-fighting curcumin and licorice root.
Kusnetz said, "Foundational mind-body wellness and strong self-esteem begin with building healthy habits early on. These habits inspire a sense of self-efficacy, belonging, and—what's missing for so many kids today—a sense that they matter."