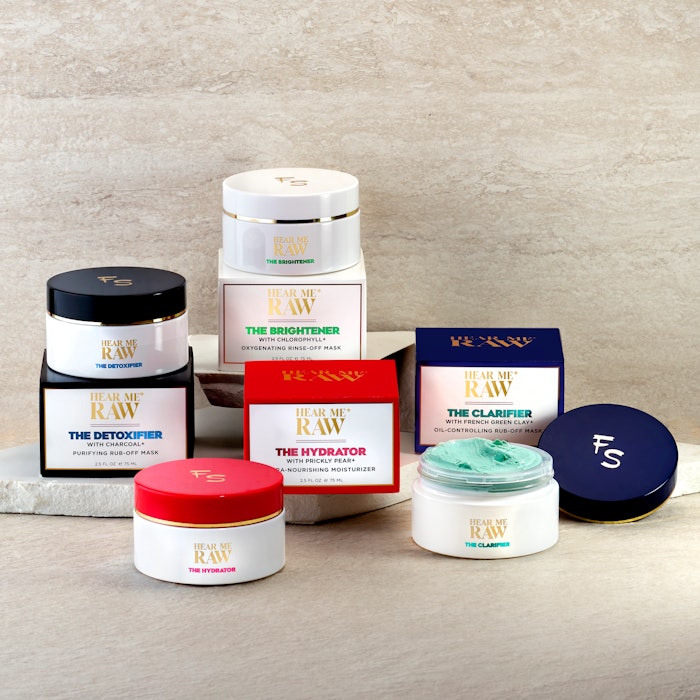 Hear Me Raw is launching a co-branded designed, limited-edition collection at LA-based retailer Fred Segal, which features plant powered, multi-use formulas in interchangeable, refillable, PCR and recyclable packaging. This is the first time Fred Segal has done a co-banded exclusive beauty partnership.
A portion of the proceeds from the collection are going to 1% for the Planet. 
The collection includes:
The Brightener with Chlorophyll+ Oxygenating Rinse-Off Mask
The Detoxifier with Charcoal+ Purifying Rub-Off Mask
The Hydrator with Prickly Pear+ Ultra-Nourishing Moisturizer
The Clarifier with French Green Clay+ Oil-Controlling Rub-Off Mask 
The products will be available at the Fred Segal Sunset Boulevard Flagship, the Malibu and Studio City locations and online at www.fredsegal.com and www.hearmeraw.com.
Ashley Petrie, senior vice president merchandising at Fred Segal, said, "At the heart of our brand, Fred Segal has always embraced authenticity and timeless style, and as we evolve, we understand the increasing significance of sustainable beauty and the demand for products that  prioritize the well-being of both individuals and the planet. It is with great excitement that we announce our partnership with Hear Me Raw, a brand that shares our commitment to conscious living. Together, we  proudly present a collection of natural skincare products that embodies our shared vision and elevates our  customers' beauty routines."
Mike Indursky, founder of Hear Me Raw, said, "We really want to make a difference in the industry on behalf of the people we serve. In our industry, 100 billion pieces of packaging materials wind up in landfills every year. It's both irresponsible and unacceptable. That's why we chose the refillable packaging system using one common glass jar and lid for every product. And that's especially important as you can't take the best from the earth (plant-based ingredients) and  pollute the earth at the same time."