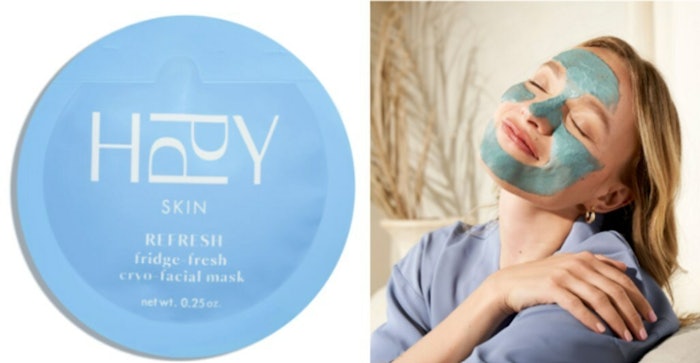 HPPY Skin has debuted with the refrigerated Refresh Mask ('$56 for a pack of five masks), a cold-pressed cryo-facial mask. 
The formulation is produced via high-pressure cold-water processing without preservatives, stabilizers, emulsifiers or fillers, per the brand.
High-pressure processing (HPP) is commonly used in the food industry. According to one source, HPP is a "non-thermal (5º-20ºC) food and beverage preservation method that guarantees food safety and achieves an increased shelf life, while maintaining the organoleptic and nutritional attributes of fresh products."
The process achieves this by delivering high isostatic pressure via cold water, which is "held for a few minutes." The pressure's effect is "equivalent to pasteurization," per one service provider. The process is gentle enough that the nutrients within the formulation remain intact. It also reportedly ensures an extended shelf life.
Given shopper concerns over ingredients, including preservatives, and the desire for minimally processed products generally, the mask represents a new manner of addressing market demands.
The mask's key ingredients include spirulina, caffeine, raw organic cucumber and hyaluronic acid, aloe vera, manuka honey, kaolin clay, olive-derived squalane oil, tocopherol (vitamin E oil), Avena sativa (oat) kernel flour, and coffeeberry.
The mask boosts hydration and plumping of the skin, rendering the surface softer and smoother, per a brand consumer perception study.
HPPY Skin will launch further refrigerated products developed via HPP, including serums, toners, moisturizers and cleansers.
HPPY SKIN is now available at hppyskin.com.
"We saw what HPP did for the food and beverage industry, allowing people to eat foods and drink juices that are fresh, rather than heat treated," said founder Hannah Penn, whose family operates the Good Foods Group. "Our minds went directly to skin care. Through our family businesses, we have always been passionate about the consumer–specifically, offering the consumer a better, higher quality product with no additives, and this is something we have now applied to skin care."