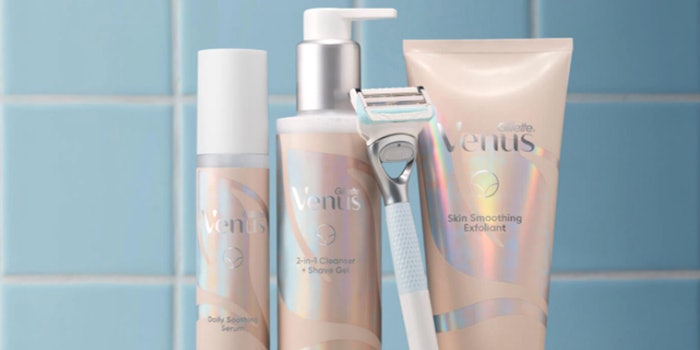 Gillette Venus has launched its Venus for Pubic Hair and Skin Collection.
Related: P&G Announces Rooted in Science Scholarship Recipients
The collection includes:
Skin Smooth Exfoliant, for use prior to shaving or in-between hair removal days to help prevent ingrown hair. 

2-in-1 Cleanser Shave Gel, for use during the shave to provide a protective layer.

Razor for Pubic Hair and Skin, created with a patented irritation defense bar said to remove the hair while barely touching the skin.

Daily Soothing Serum, a daily moisturizer said to help reduce itch due to dry skin and which contains a gentle exfoliant.
The full collection is dermatologist and gynecologist tested, pH balanced and made without parabens, dyes, fragrance and silicones.
Venus has also launched ThePubeSong, a campaign to encourage people to use the word "pube" over "bikini" or "down there" and to generally normalize pubic hair.
Kristin Monaco, a senior product research engineer for Venus, said, "We've found that more women are dissatisfied with caring for the pubic area than anywhere else on the body, in fact, 56% of U.S. women wish there was more accurate descriptions and imagery in society of women grooming their pubic area. It's not surprising. Pubic hair is coarse and the skin is delicate, so for many women it requires a different approach to help avoid shave bumps, ingrown hairs, redness, and itchiness."
MyAnh Nghiem, Gillette Venus communications director, said, "With over two decades of research and scientific development in women's hair and skin under our belt, literally, we know that grooming means something different to every woman. Our new collection not only offers women more options for pubic grooming than we ever have before, but starts a new conversation about using language that accurately and respectfully represents the female body."