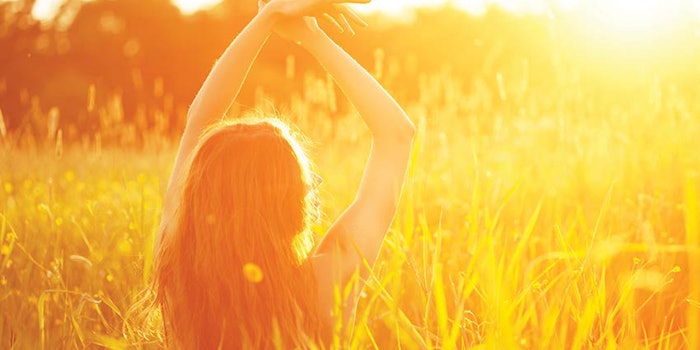 Whether living in a city or a more rural area, consumers are learning there are many ways to fight the major factors that cause the skin to age.
UV-defense products are of course essential, but sunscreen is no longer enough to address the assault on weakened skin. Increasingly, many consumers and brands are focusing on the aging impacts of pollution, which produce additional oxidants that overwhelm the skin's protection system and cause early aging, debilitation of immune functions and even skin cancer.
Previously: Escalol S UV Filter Introduced 
"Particulate pollutants can be smaller than human pores—penetrating the skin and disrupting the cell renewal cycle and causing free radicals—meaning skin that is dryer, unevenly pigmented, and more wrinkled," explains Lauren DelDotto, Gattefosse marketing manager, North America.
Symrise-sponsored research led by Professor Jean Krutmann (IUF— Leibniz-Institute for Environmental Medical Research GmbH) in Düsseldorf, Germany, which was honored by the IFSCC in 2015, further highlighted the impacts of air pollution on skin.
Further reading: Storm Clouds Gather Over Sun Care
The work, based on epidemiological studies, showed that airborne, traffic-related particulate matter can impact wrinkle formation and pigment spot formation.
Soot carbon particles on the nano and micrometer scale and polyaromatic hydrocarbons such as benzo[a]pyrene were the leading suspected culprits, according to the research.
This more holistic understanding of skin threats is now driving some of today's leading ingredient and brand innovations.
In-depth: Trends in Hair Care, Sun Care Appear on the Verge
"This is absolutely a focus for the future," says Susan Bunting, marketing communications manager, Croda Inc. "We know that oxidative stress from the environment is responsible for 90% of visible skin changes with age. What we don't yet know are all of the underlying causes of this damage, and as we continually uncover more understanding into these mechanisms, we can develop ingredients that deliver more powerful effects."
Antioxidant-powered Protection
Antioxidants are the most utilized solution for the free radicals generated by pollution, sun, stress, smoking, fatigue and the other irritants of everyday life. Many brands have launched products in skin and hair care markets, particularly over the past year, turning to a range of ingredients that include widely popular plant extracts such as green tea and acai berry.
As a brand, Olay has no shortage of products on the market designed both to fight wrinkles and protect skin from sun damage. Olay's Pro-X Age Repair Lotion with Broad Spectrum SPF 30 provides reliable broad-spectrum sun protection with avobenzone sunscreen.
Backing it up are the free-radical-fighting antioxidants vitamin E and green tea extract and a number of skin-identical and skin-repairing ingredients. Chief among those is cell-communicating B vitamin niacinamide, which can also help reduce the appearance of sun damage.
The package's pump dispenser keeps its beneficial ingredients stable in the presence of light and air.
Several niche brands are in on the action, too. Los Angeles-based Drunk Elephant provides a non-tinted mineral sunscreen SPF broad-spectrum protection with zinc oxide. Packaged in a foil-style squeeze tube to protect the ingredients inside, Umbra Sheer Physical Defense SPF 30 is loaded with antioxidants, including vitamin C (as tetrahexyldecyl ascorbate), grape extract, acetyl glucosamine and, notably, astaxanthin.
Astaxanthin: Age Interrupter
Astaxanthin, a keto-carotenoid, has impressive research demonstrating its ability to work as an antioxidant, but especially so for its sunscreen-boosting, UV- protection against photo-aging.
Research shows long-term exposure to air pollution plays a major role in premature signs of extrinsic aging, particularly pigment spots on forehead and cheeks.b
Adequate presence of antioxidants such as astaxanthin can neutralize free radical damage caused by pollution, as well as interrupt the process leading to age spots. 
Flower Power
Similarly, research has indicated components in peony root can interrupt the skin pigment melanin pathway that leads to dark spots.
Croda, for instance, has launched Phytessence White Peony, which has been used traditionally as a skin irritation treatment and stress reliever. The ingredient boosts uniformity of skin color and protects against pollution to prevent further discoloration.
Peony Brightening UV Shield Sunscreen SPF 50+ from Boston-bred Fresh, now a subsidiary of LVMH, claims to visibly reduce the appearance of dark spots and hyper-pigmentation and protects against future damage.
The brand's exclusive brightening complex, derived from peony and licorice root extracts and vitamin C glucoside, helps reduce and prevent the appearance of dark spots, while shea extract offers antioxidant protection against damage caused by pollution.
Another flower, edelweiss, is the inspiration for Croda's Majestem, which protects against pollution- and UV-related oxidative stress, restores skin tension, and offers face and neck lifting in three weeks. The ingredient is driven by its antioxidant and free-radical-scavenging activity.
Metal Matters
"The best option is to boost the skin's defenses against external aggressions—it's better to prevent damage than try to repair it later," says DelDotto.
Gattefosse is among the suppliers positioning their offerings as long-term protection against environmental stress and pollutants. Gattefosse's Mineral Matters is a line of bioavailable stone extracts, each with a distinctive anti-age action on the skin: from Mala'Kîte, a specific copper complex to support the function of the skin, to Zin'Cîte, which helps sequester heavy metals.
"Mala'Kîte stimulates natural antioxidant production by boosting activity of glutathione reductase and has a strong general protective action against oxidative stress by quenching of superoxide anions," explains DelDotto.
By stimulating glutathione reductase, skin is ready to regenerate glutathione, which traps toxins, solvents and heavy metals.
Battling Inflammation
The harmful effects of free radicals include impaired structure and function of DNA, proteins and lipids, as well as interference with specific regulatory mechanisms and signaling pathways in cell metabolism, resulting in chronic inflammation.
Therefore, Alban Muller suggests a three-pronged strategy that reinforces skin-defense systems, reduces inflammatory markers and improves skin resistance. Cytokalmine ER, a pomegranate peel extract containing a high concentration of polyphenols, is an anti-inflammatory and antioxidant active.
"Cytokalmine breaks the mechanism in cascades of the inflammatory response, and, thus, reduces chronic inflammations," explains Alexandra Jeanneau, Alban Muller director of communications. "Sensitive, reactive and atopic skin that recovers its homeostasis is better protected from inflammation and remains younger longer."
Rounding out the supplier's trifecta is the skin protective shield Protectami, which reinforces cell cohesion, and Preparami, which stimulates the synthesis of heat shock protein in case of stress.
"By naturally stimulating the synthesis of GAGs and collagen, skin is firmed and revitalized, and therefore better prepared to fight against the aggressions of pollution," says Jeanneau.
Boosting Skin Resistance
Smoke and toxic chemicals are relentless pollution concerns. Lucas Meyer suggests formulating with Exossine EXO-P, an organic polymer that chelates heavy metals on the skin surface. Lucas Meyer also offers Lanacityn PF, a combination of marine exopolysaccharides with an African plant extract rich in flavonoids.
This combination of two extreme molecules acts as an anti-pollution active ingredient reinforcing skin resistance toward environmental insults, protecting cutaneous cells and DNA from smoke damages and against pollution.
The Global Threat is Real
No matter where you live, your skin is attacked every day by an increasingly polluted environment. It is suffocated, weakened, dehydrated and unable to reconstruct its barrier function. That means there are endless opportunities for the beauty and personal care industry to develop products for self-defense and self-protection from sun and pollution.
Sara Mason is a freelance writer based in the Chicagoland area. She was previously managing editor of GCI magazine.