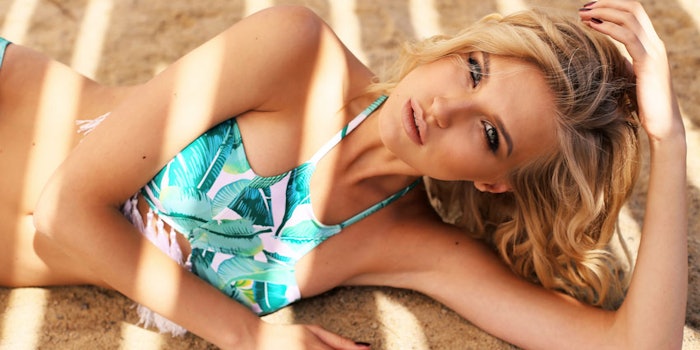 Glowing skin and bright highlights go hand-in-hand with the sun-drenched summer months, however, with consumers becoming increasingly aware of the dangers of basking in the sun's harsh UV rays, beauty lovers are turning to other methods of achieving the sought-after bronze look. 
Amalgam, Kline's digital tracking service, states that self-tanning and hair-lightening products "moved up the ranks" during Q2 2018. 
Trends in Self-tanners
Amalgam found that tanning water, a new texture in self-tanners, was one of the biggest trends in sun care. Ten tanning waters reportedly ranked in the top 600 in sun care during June, up from just one in March. In the sunless tanning segment in Q2, all tanning waters improved in score and ranking. 
Brands appearing for the first time include:
Isle of Paradise Self-Tanning Water;
St. Tropez Self Tan Purity Bronzing Water Mousse;
James Read Gradual Tan Coconut Water Tan Mist Body; and
Vita Liberata Invisi Foaming Tan Water with Mitt.
Beach Hair Don't Care
Products offering beach waves and lightening effects also gained popularity during Q2. According to Amalgam, top products include:
IGK Beach Club Texture Spray returned to the bestseller list and ended the quarter at #16 in hair care;
Sun Bum's Revitalizing 3-in-1 Leave In entered the top 100 for the first time at #83 in hair care;
Sun In ranked at #30 in hair coloring products with its two-pack; and
Ouai's Sun of a Beach Ombre Spray debuted on Amalgam in May as a best seller at Sephora and Bloomingdale's.