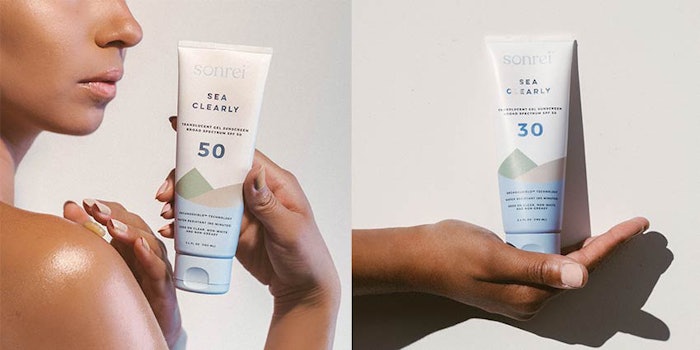 Sonrei has debuted its sun protection products, Sea Clearly, which are designed with inclusivity in mind. The brand's translucent, gel-based formula, fortified with a combination of powerful anti-aging antioxidants Vitamin C, E and fluoric acid, to slow down fine lines and wrinkles from both UVA and UVB radiation.
Data: Sun care market growth projections.
Sea Clearly's broad-spectrum SPF 30 and 50 is water- and sweat-resistant for up to 80 minutes, even passing the Australian standard four-hour water resistance test. It's also non-comedogenic and fragrance-free, making it a great alternative to makeup primer, anti-aging moisturizer or even a hand cream during this time of excessive hand washing.
Products are formulated with natural ingredients from the earth, to create a vegan, reef-safe, and cruelty-free SPF that is free of oxybenzone and octinoxate, two common UV-blocking chemicals that cause coral bleaching.
Sea Clearly is also formulated with organoshield technology to create a clear, smooth film that bonds effectively to the top of your skin as a safe protecting layer. The sunscreen ingredients and antioxidants are tightly held in place via a uniform lattice structure, creating a sunscreen with maximum efficacy and the soothing feel of a gel.
Sonrei co-founders stated, "Coming from various ethnicities, we knew first-hand the difficulties of finding an SPF that absorbed into our skin without leaving a residue. It's our belief that wearing sunscreen should be a comfortable,positive experience for all, no matter the shade of your skin, and our debut SPF–crafted by every kind for every kind–provides just that."