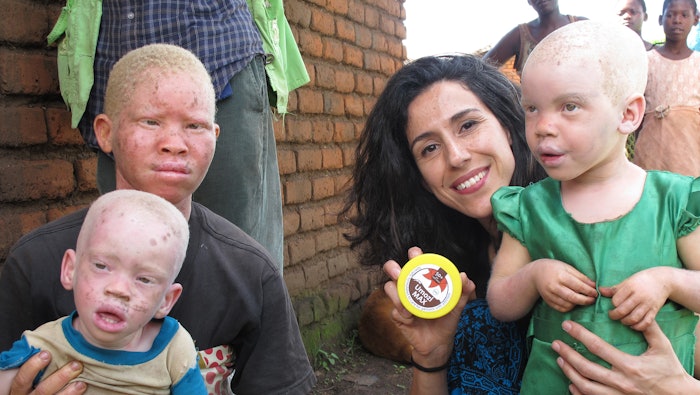 BASF's Care Creations and Beyond Suncare renewed their cooperation on a project aimed at protecting people with albinism in Africa through customized sun care products. Over the next three years, BASF will continue to support Beyond Suncare by supplying raw materials from its portfolio free of charge and by providing technical expertise to further improve the formulation.
Related: BASF x StitchCrew Launch Inclusive Beauty Accelerator
Beyond Suncare provides education and sunscreen to people with albinism living in remote locations in Africa. The sunscreen is specifically formulated for people with albinism and the climate of sub-Saharan Africa. BASF and Beyond Suncare initiated the cooperation back in 2014 and plan to continue working together to improve the existing formulation. There are also plans to develop new formulations that include oils from local African producers.
Mafalda Soto, co-founder of Beyond Suncare, said, "We want our work to be sustainable and to have a lasting effect. Right now, we are expanding our work to other African countries, and we are in the planning stages of establishing a local manufacturing plant in Malawi. To do all this and make an impact, we need the continuous support of strong partners and allies. So, we are extremely pleased to be renewing our collaboration with BASF."
Stéphanie Acker, technical manager of sun care at BASF, said, "This project is very close to my heart and I am proud that we can support Mafalda Soto and her team from Beyond Suncare. Sunscreens and UV filters contribute significantly to personal health by helping protect the skin against the harmful effects of UV radiation. These include erythema, premature skin aging, age spots and—with frequent, intense exposure—increased risk of skin cancer. We need to make sure that the most vulnerable people, in particular, are safe in the sun."