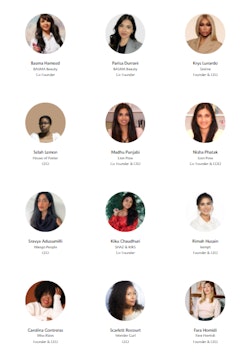 Sephora has unveiled the participants in its 2022 Accelerate brand incubator program, with a group of 10 BIPOC brand founders who span the categories of makeup, skin care, hair care and fragrance. Participants will benefit from Sephora's curriculum, mentorship, merchandising support, potential funding and investor connections, who will have the opportunity to launch at Sephora upon completion of the program.
For historical perspective, the cohorts for recent Accelerate classes are provided here: 2018, 2019, 2020, 2021.
This year's participants are:
Basma Hameed and Parisa Durrani, founders, BASMA Beauty, which  "develops easy-to-use, versatile, and buildable formulas that give you the ultimate control of your beauty routine, via makeup made for real life and real skin."
Fara Homidi, founder, Fara Homidi, a clean luxury beauty line featuring "sustainably-minded packaging and products," including a refill system and an inclusive color range.
Selah Lemon, founder, House of Foster, a fragrance house that "believes in the promotion of intentional formulation that positively provokes the senses."
Nisha Phatak and Madhu Punjabi, co-founders, Lion Pose, a cleanical brand "for brown skin" that addresses hyperpigmentation, melasma, ingrown hairs and acne.
Rimah Husain, founder, Kempt, a gentle "facial hair removal experience with a skin-first approach."
Sravya Adusumilli, founder, Mango People, "a line of [inclusive] multifunctional beauty essentials formulated with organic botanical oils, adaptogenic herbs from Ayurveda and infused with plant pigments."
Carolina Contreras, founder, Miss Rizos, which features an online educational platform for curly hair enthusiasts, two curly salons in New York City and the Dominican Republic, and products for curly hair.
Kiku Chaudhuri, co-founder, Shaz & Kiks, a brand that features hair care inspired by Auurvedic raw materials. Co-founder Shaz Rajashekar will not be participating in the program. 
Krys Lunardo, founder, Sistine,  an inclusive, clean and "ecocentric" brand of skin care "curated to match the protective and nourishing properties of earth's four spheres" and comprising plant-based ingredients.
Scarlett Rocourt, founder, Wonder Curl, a "Black-owned, vegan hair care line that improves the texture of natural hair by keeping hair nourished and hydrated for days without rewetting or restyling."
"We are thrilled to welcome all 2022 finalists to the Accelerate program and into the Sephora family," said Venkatesh. "We know that business growth in communities of color creates jobs, opportunity, stability and generational wealth–having the potential for decades of positive impact. With the program's focus on BIPOC-owned brands, Sephora is committed to making a difference."
"We are committed to ensuring that the brands and products found at Sephora represent all the colors, races, and ethnicities that make up America, effectively building a beauty community to which everyone feels they belong," said Priya Venkatesh, SVP merchandising, skin care and hair, Sephora. "To do so, it's important that brand founders of all backgrounds have the opportunity and resources they need to grow their businesses and thrive. Through the Accelerate program, Sephora is committed to giving founders the long-term mentorship, access to market and scale they need to truly accelerate growth, with the program serving as a springboard for nascent brands to become visible, viable, stable, and financially solvent."
About the Program
From mid-January-March 2022, participants will be onboarded into the Sephora ecosystem in preparation for Bootcamp. They will have the opportunity to form relationships with their merchant sponsors and fellow participants, as well as kick off their branding, product development and finance.
The Bootcamp will come in early April 2022, offering a week-long series of education and inspiration sessions that cover marketing, omnichannel strategy, product development, investment strategy, media relations, supply chain and operations, inventory planning and more.
This year's group will also take part in post-Bootcamp brand-building workshops, including one-on-one sessions with advisors and Sephora experts.
Participants will graduate from the program in late May or early June 2022, at which time each founder will give a formal presentation to senior-level Sephora leaders about their brand journey and the expertise gleaned during the program. 
Knowledge leaders for the program include executives from Tatcha, First Aid Beauty, Kosas, Briogeo, Milk Makeup and Tower 28, as well as experts like Julian Addo (Adwoa Beauty), Danessa Myricks (Danessa Myricks Beauty), Sarah Lee and Christine Chang (Glow Recipe), Akash Mehta (Fable & Mane), and Heela Jang (Sol de Janeiro).
A founder panel will also be held, featuring Mazdack Rassi of Milk Makeup, Amy Liu of Tower 28 and Addo.
Past program graduates will also share their experiences, including Olamide Olowe (Topicals), Christina Funke Tegbe (54 Thrones), and Marie Kouadio Amouzame and Alice Lin Glover (EADEM).