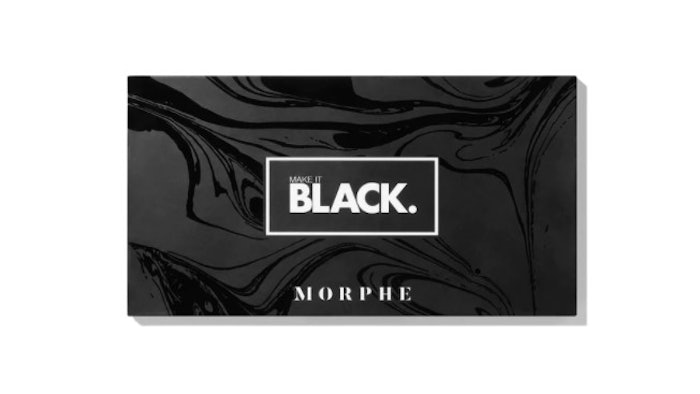 Uoma CEO Sharon Chuter and Pull Up For Change are re-launching the Make it Black campaign with new beauty brand partners to continue to shift perceptions around what it means to be Black and raise funds for the Pull Up For Change Impact Fund.
The partnering brand's most iconic products will be repackaged in black for a limited time. They will be sold online at Ulta Beauty, through Ipsy/BoxyCharm subscription boxes and via the Make it Black and participating brand's website.
One-hundred percent of the gross profits from the limited-edition products will go to the Pull Up For Change Impact Fund.
Participating brands: 
e.l.f.: Total Face Sponge
Flower Beauty: Flower Beauty x Make it Black Forever Wear Winged Liner 
M∙A∙C Cosmetics:  Lustreglass Sheer Shine Lipsticks
Mented: Pink About Me Lipgloss
Morphe:  Morphe X Make it Black Artistry Palette
Uoma Beauty:  Make It Black Carnival Color Palette and Make It Black Badass Icon Matte Lipsticks
Ipsy is also debuting two exclusive bundles that include brands like Morphe, Mented Cosmetics and Uoma, from which 100% of the net proceeds will be donated to the program. 
Bundles:
I am Bold Bundle
I am Strong Bundle
Ipsy has pledged a $25 million commitment in 2022 to expand the communities it supports to include both Black-owned and Latinx-owned brands.
The Make It Black campaign's petition, which was created to get the Oxford English Dictionary and Merriam Webster Dictionary to update their definitions of the word black immediately, already has more than 6,220 signatures and counting. Chuter has written an open letter to the Oxford English Dictionary and Merriam Webster Dictionary, and is writing 6,200 additional letters—in support of each petition signature—to push upon the dictionaries and advocate for real change.
Chuter said, "Language plays a critical role in how we perceive the world. The function of language goes beyond expressing ideas and concepts, it shapes thought and defines our collective consciousness. Language should be neutral, unbiased and reflective of our current realities. It is in this regard that the dictionary has work to do. As a Black Female founder, I understand, first-hand, the struggles of raising capital or accessing funding. In fact, I am one of only 93 Black women in the history of America who have raised over $1 million for startups. On the other hand, the average white male receives $2.1 million to fund their startups. We have a long way to go to create true economic equality and there is no equality without equity. This is where I am proud to play a small part in supporting other Black female founders to make their dreams a reality, and to truly get the seat at the table that they very well deserve."
Monica Arnaudo, chief merchandising officer at Ulta Beauty, said, "Ulta Beauty is proud to join Sharon and Pull up For Change to empower Black beauty and drive meaningful change in our industry. As a values-based company, we share the passion to shape how the world sees beauty and the intention to build greater equity for Black founders. Make it Black helps achieve this and we're honored to support as the exclusive retail partner."