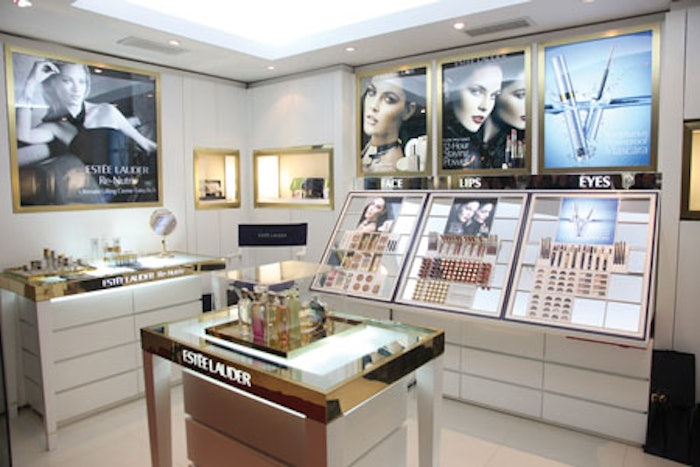 "The first exclusive Estée Lauder store-within-a-store in Argentina [opened in 2004] was redesigned in April to meet the international standards of the brand," Cecilia Cavallero, marketing manager of Estée Lauder's sales and marketing division, told GCI magazine. "The upgrade is a step toward having free standing stores, which is one of the company's goals."
The store-within-a-store is located in the Alto Palermo Shopping Centre in Buenos Aires. Estée Lauder products are currently distributed by Elca Cosméticos in Argentina at 35 points of sales.
LVMH Announces Changes in LatAm Management Positions
The LVMH Group announced that Silvia Santuccio is the new brand manager of luxury brands Kenzo and Givenchy in Argentina. She took the position previously occupied by Ignacio Amigo, who is now the brand manager for those brands in Mexico.
Santuccio began working for the company in 2003, and had been the marketing manager for Givenchy for more than five years. According to the company's press release, "Through this new position, she will contribute to the company with her great experience in the luxury and beauty market."
In addition, executive Sol del Carril, who managed Kenzo for 10 years, is taking Santuccio's place as marketing manager for Givenchy. Carril will be replaced by Sol Quirno, who has been Kenzo's product manager for four years.
Expansion Plans for Argentine Brand
Argentine cosmetic brand Ozona Patagonia announced its expansion plans for the Argentine market. "We are planning to open three Ozona Patagonia stores in 2010, in addition to the two doors we already own in Bariloche [an Argentine city in the foothills of the Andes]," Ricardo Grinszpun, the company's director, told GCI magazine. Eighty percent of the company's production is exported to international markets—including the U.S., Guatemala, El Salvador, Costa Rica, Mexico, Honduras, the Caribbean and Chile—and the company is currently in negotiations to enter the Brazilian market.
The company (founded in 2005 in San Carlos de Bariloche, in the Patagonian region) produces 150 items—including lotions, fragrances, shampoos, conditioners and soaps. All the products are based on local ingredients such as rose hip, blueberry, grape, raspberry, strawberry and cherry.
World Beauty Fair in Buenos Aires
The 17th edition of COSMESUR Beauty World Buenos Aires 2010 will be held October 2–4, 2010, at La Rural Exhibition Center. Organizers Indexport Messe Frankfurt and the Argentine Chamber of the Cosmetic and Perfumery Industry expect 135 exhibiting companies (occupying the 15,000-square-meter show floor) and the participation of 40,000 professionals and executives from the beauty sector. The show will include the 50th National Fair of Female Color and Hair Style and the 5th National Fair of Male Color and Hair Style, organized by the Argentine Federation of Hair Stylists (FAPYA), as well as a round of meetings between international beauty companies and local enterprises, organized by the Export.Ar Foundation and Indexport Messe Frankfurt.
L´Oréal LatAm Post Growth in Q1 2010
L'Oréal reported growth of more than 32% in sales in Latin America for the first quarter of 2010, due to strong performances in Brazil, Argentina and Mexico. The company reported the greatest increase in sales (18.7%) in emerging markets. Within the same period, the Latin American beauty market improved as a whole, with the sales of hair care and deodorants leading the way. Moreover, there was also a strong growth in the active cosmetics segment, according to a L'Oréal report. The company reported 8% sales growth worldwide.
P&G Names First Argentine General Manager
P&G Argentina named Fernando del Carril its first Argentine general manager. Carril took charge of Argentina, Chile, Paraguay and Uruguay on June 1. Gerardo Ríos, the former general manager of the region, will now be in charge of the Latin American Management of woman's beauty and hair care, based in Panama.
Previously, Carril was the Latin American manager of woman's beauty in Chile. He has been employed by P&G since 1995, handling a number of different business units in Argentina, Mexico, Venezuela and Chile.
Nitropharma to Introduce New Argentine Labels
"Nitropharma [a distributor] will be representing the Argentine brand Exel in Spain and the Unites States," Nitropharma director Manuel Martínez Navia told GCI magazine. European brands Mondariz, Extase Sensuel and Refan will also be included in Nitropharma Spanish portfolio. Further, the Argentine cosmetic line Caviahue, based on thermal mud and available in Spain and Portugal since 2005, was recently introduced in the U.S. Exel and Caviahue are also distributed in France and Belgium. In the U.S., Nitropharma works through its online label Acquaessentials.com.
Cristina Kroll is a business journalist specializing in the beauty sector and living in Buenos Aires, Argentina. She has written for the main Argentine magazines related to the beauty business, and was a correspondent for French magazine Beauty Business News.