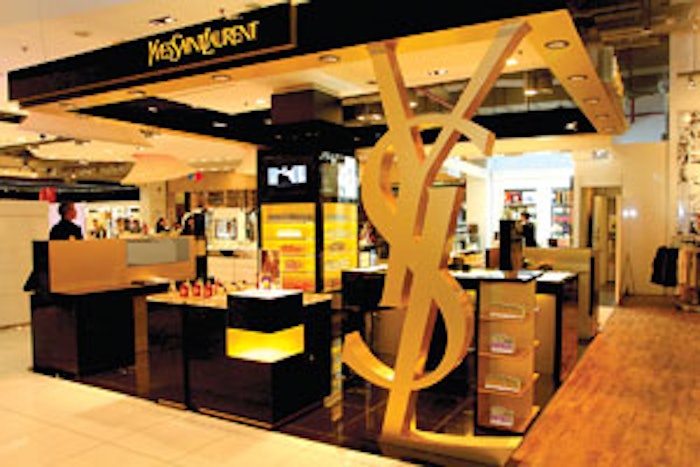 Yves Saint Laurent inaugurated its first point of sale in Argentina. The stand is located in the Falabella department store in the Buenos Aires province. "L'Oréal just began to market the brand in Argentina in 2011," Myrna Polotnianka, spokesperson for L'Oréal Argentina luxury products division, told GCI. The brand's first offering for the market was its makeup collection and select star products in its portfolio—such as the YSL's best-selling concealer Touche Eclat, the Effect Faux Cils mascara and the recently launched Rouge Pur Couture lipstick.
Sally Hansen Launches
In August, nail care brand Sally Hansen was introduced to the Argentine market during a gala art event, featuring Argentine model and photographer Florencia Fabiano. Coty acquired the brand in 2007 when it purchased DLI Holding Corp.
Avon Launches Sales Center
Avon opened a new sales center in Buenos Aires city exclusively for resellers and area managers. This point of sale is located in Santa Fe Avenue, one of the most emblematic commercial areas of the city.
"With this new project, we aim to continue growing while offering our resellers benefits that will complement our current sales channels," said Paulo Moledo, general manager of Avon for Southern markets.
Resellers can place orders directly at the sales center, as well as through online means. The location will also offer training courses.
Argentina Provides Boost to Local Fragrance
The Argentine government is set to increase local industrial production through new measures, and local fragrance brand owners have seized this as an opportunity to grow their businesses, which have historically competed with imported brands. According to local business magazine Fortuna, the new strategy is based on offering better prices/quality rates, financing for purchases with credit cards and boosting advertising. In addition, multinational companies could be impacted if the government decides to request them to export local goods for the same amount of products they bring into the country, as it did with sectors such as automotive, toys and textiles.
Leading local fragrance brand owners include Cannon Puntana (owner of emblematic brands Colbert and Ciel) and Saint Julien, which produces Petit Enfant, Petit Amour and Prince, among other scents, in its facility in Argentina's La Rioja province. They both also produce for third parties, since many fragrance companies in Argentina subcontract production. Padoc (which has found a niche market in creating fragrances for fashion houses of such as 47 Street and Kosiuko) and Fulton, a traditional firm that was recently relaunched with an updated image, are among the other notable fragrance companies in the country.
Kiehl's Celebrates Friends
For Argentina's Friend's Day, celebrated annually on July 20, American brand Kiehl's launched the Maté Friday's campaign, aimed at promoting its line based on yerba maté—one of its more unique beauty lines. The Yerba Maté Tea line, based on extracts of South American herbs commonly used in infusions, includes facial lotion, toner and cleanser.
Consumers who visited the company-owned store in Palermo, Buenos Aires on Fridays were welcomed with maté and snacks—which is a customary way to welcome friends in the afternoons in Argentina—and included in a trip giveaway.
Summit Seeks Harmonization
The Counsel of Latin American Cosmetics Industries Associations (CASIC) held its XV directives meeting November 9–11 in San Salvador. Leaders of the region's varied cosmetics associations will meet with sanitary authorities of Central American countries to discuss the advances made by the different work commissions assigned in the last CASIC. According to CASIC, the main goal for this meeting between the public and private sectors will be to exchange experiences in legislation regarding cosmetics and analyze opportunities to move forward in the harmonization of the legal framework within the region.
Cristina Kroll is a business journalist specializing in the beauty sector and living in Buenos Aires, Argentina. She has written for the main Argentine magazines related to the beauty business, and was a correspondent for French magazine Beauty Business News.