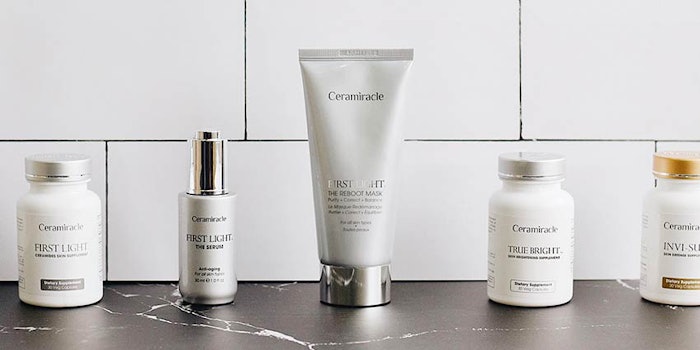 @ceramiracle/ via Facebook.com
Ceramiracle has named Mi Ming Mart its exclusive distributor for Hong Kong. Additionally, the company has set up a Chinese marketing office, and will retain its policy against animal testing.
Mi Ming Mart has launched the brand in all of its stores across the city.
"We've always been pushing for responsible beauty and we found the right partner in Mi Ming Mart," said Ceramiracle founder Eugene He. "Erica Yuen's passion for clean beauty resonated with me so this partnership is more than just a business transaction but a step forward to advance a common laudable goal."
"I didn't believe in beauty supplements until I tried Ceramiracle," added Mi Ming Mart founder Erica Yuen. "I personally saw results in just a few days and was really impressed. We are always on the lookout for inspiring brands with great products that will connect and resonate with our customers and Ceramiracle is the right fit."
Additionally, the Ceramiracle marketing office has opened in the town of Wuzhen in the Zhejiang province. The company has set up an office in Tencent's Innovative Space, and will utilize its Wechat platform; it is also negotiating with two major television stations to make its products available across the country.
Ceramiracle, which is PETA-certified, will bypass China's animal testing policy via cross-border selling, and will offer experiential product experiences through inventory-less pop-up stores and consumer events.  Consumers will be able to purchase the products by scanning a QR code and having them delivered from a bonded warehouse in China's free trade zone.