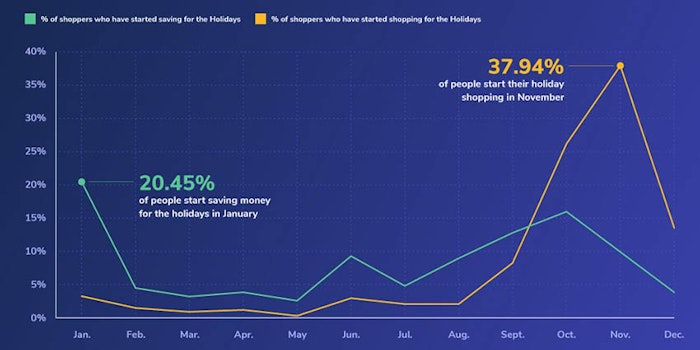 How do you get beauty shoppers to spend more? Offer financing. Using an independent market research firm that surveyed 475 U.S. consumers, Bread has released its Annual Holiday Shopping Report 2019, which indicates the average shopper is looking to finance $465, with 54% stating they'd spend more if possible.
Previously: Beauty Sales to be Stronger This Holiday Season
Bread has detailed five major insights that represent how consumers save and buy during the holiday season.
1. Shoppers save early and shop late for holidays
86% of consumers start saving for holiday shopping before October
22% of consumers start holiday shopping before October
2. Shoppers often don't stick to a budget and expect to finance 45% of their holiday purchases
Consumers expect to spend $1,007 and anticipate financing $456
86% of shoppers set a budget in advance and only 23% stick to it
3. Buy now, pay later options appeal to holiday shoppers
28% of consumers plan to pay for their holiday shopping with interest-free installments
50% of consumers would be open to using interest-free installments to pay for their holiday shopping
4. Holiday shoppers spend more when offered financing
54% of consumers would spend more on holiday shopping with the option to split up purchases into interest-free payments
18% pf consumers would spend up to 20% more with the option to split up payments into interest-free installments
25% of consumers would prefer interest-free installments over paying all at once with a 15% discount
5. Buy now, pay later options appeal to millennial shoppers the most
74% of millennials would spend more in offered interest-free installments
48% of Gen Xers would spend more if offered interest-free installments