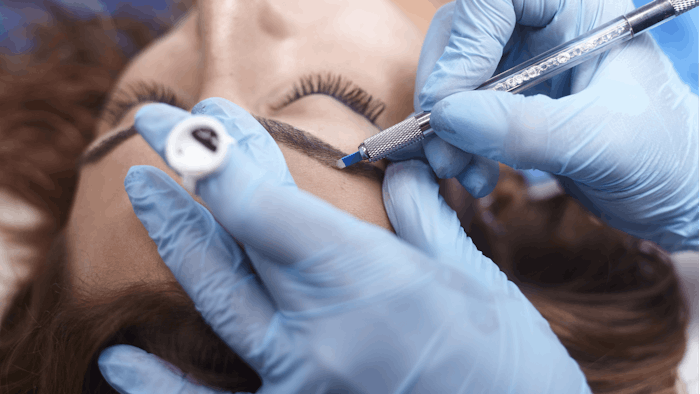 Spate's report on consumer search trends in the United States reveals increased consumer interest in preventative care and services, specifically in brows, lips and hair. Trends include lip sunscreen, microshading and hair steaming.
More from Spate: US Consumer Trends in Skin Care, Hair Services, Cosmetics and More
There are 17.5K average monthly searches for lip sunscreen, a growth of 28% year-over-year (YOY) and a medium volume compared to other lip care searches. There is high competition with 21 market leaders and Coola, Aquaphor and Elizabeth Arden leading the charge.
Per the report, sun care remains a prevalent trend in beauty and the top driver in the skin care category. Brands are responding by creating new SPF and makeup hybrids. Search terms related to lip sunscreen include tinted, natural, ingredients, treatment, sensitive, balm and gloss.
There are 34.9K average monthly searches for microshading, a growth of 62.5% YOY and a high search volume relative to other eye and brow services. Microshading differs from microblading in its ability to create a shadow effect with miniature dots to fill in sparse areas, resulting in full and natural-looking brows.
Other brow services experiencing search growth include nano brows (114% increase), brow lamination (55.6% increase) and powder brows (37.4%), indicating increased consumer attention to brow care and brow services.
There are 2.4K average monthly searches for Hair Steaming, a growth of 46%, but still a very low volume relative to other hair and scalp treatments. Hair steaming uses steam to better absorb hydrating products into the hair shaft, enhancing moisture and elasticity.
The treatment is done with a conditioning agency, and there is currently an opening in the market for a deep conditioning product to use with hair steaming, as evident in the related search terms—olive oil, egg and aloe alongside DIY or homemade. Consumers are looking for ways to create their own home remedies to achieve deep conditioning.
Spate suggests brands emphasize hair masks or deep conditioners with natural ingredients to use with hair streaming. Related searches for natural hair and 4C suggest consumers with a specific hair type are seeking the moisturizing benefits of hair steaming.