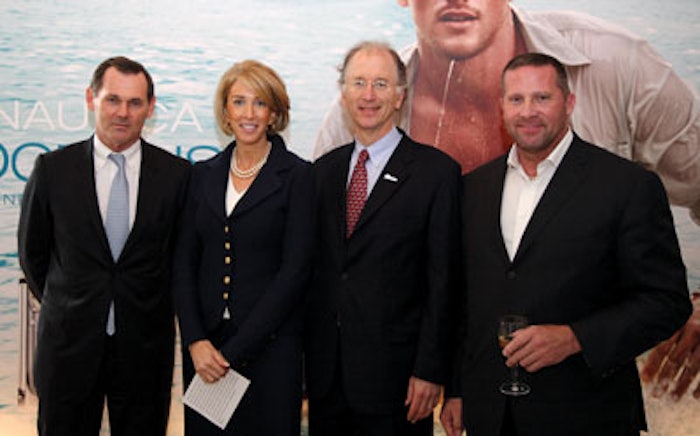 The Fragrance Foundation presented the State of the Industry 2008 panel at New York's Metropolitan Club, moderated by Foundation president Rochelle Bloom. Covering both industry challenges and new opportunities, panelists Susan Babinsky, senior vice president, consumer products, Kline Group; Lynn Franco, director of the The Conference Board Consumer Research Center; Wendy Liebman, president, WSL Strategic Retail; and Robert Mettler, president, special projects, Macy's West, provided input on emerging markets and retail approaches.
First, Babinsky presented data gathered from Kline Group's bases around the world, noting that the global personal care business was most recently valued at $250 billion, with fragrance comprising 11%. She cited opportunities in the areas of emerging markets, in particular the BRIC nations—Brazil, Russia, India and China, as well as through the sustainability trend, which has taken hold in the industry. In addition, she discussed functional fragrances, noting the claimed antiaging benefits of Perricone MD's Synergy brand and the nutri-benefits of Intelligent Nutrients from Horst Rechelbacher.
Liebman then addressed the ways in which America shops in crisis. "If you think like shoppers, you'll connect with shoppers," she said. Innovative offerings are important in the beauty business, according to Liebman, because more shoppers are shopping closer to home, choosing lower priced brands, waiting for sales and trading down to less expensive brands and less expensive stores. "There are new retail mixes," she said, "and high and low value propositions are offering alternatives in a changing retail economy."
Franco continued the panel's discussion by referring to the decline of the consumer confidence index, relating it to the general health of the economy. "There's a great sense of apprehension about making purchases," she said. "There's got to be great incentive to spend on something if it's not a necessity."
"We need to be more innovative to get our customers to visit us more often," Mettler added. "We have to break through the clutter and noise to reach a diverse, new mix of customers by breaking out of our comfort zones and being agile enough to meet their needs."
Maybelline NY Awards Leaders in Education
Maybelline New York celebrated its fourth annual Beauty of Education dinner at the Trustees Room of the New York Public Library, honoring ten women who have harnessed the power of education with constructive and inspiring accomplishments, presenting each with a $10,000 grant.
Tomiko Fraser, Maybelline New York's brand ambassador, introduced the honorees, beginning with Deborah Sims, founder of Hopes for Higher Education, which works to improve educational access for the vulnerable population aging out of the foster care system. "An education is a gift that no one can take away from you," said Sims, who herself grew up in foster care.
"It's not so much about how you appear to other people, but how you see yourself," said David Greenberg, president of Maybelline New York. "At the end of the day, leadership comes down to role models, and the people who participate in your programs will become the next role models."
SCC Annual Meeting
The Society of Cosmetic Chemists held its annual scientific meeting and technology showcase at New York's Hilton Hotel.
Dr. Linda Rhein, president, SCC, provided the opening remarks, highlighting the presentations, which this year included a discussion on the potential for tissue engineering, diagnostic spectroscopy of the skin and the latest scientific achievements in skin, hair and cosmetic science. Wil Hemker, chair, Committee on Scientific Affairs (COSA), said: "The scientific areas being researched today are pushing the envelope in [the] cosmetic chemistry."
Opening session moderator Zoe Draelos discussed multicultural skin care technology and Hitoshi Masaki, PhD, presented on the effects of filaggrin inducer pyroxidene (VB6) and its derivatives on human keratinocytes and intact human skin. Also, David More, PhD, analyzed the potential of confocal raman spectroscopy of active permeation into the stratum corneum from lamellar lipid formulations.
Thursday's awards luncheon recognized the winners of a variety of scientific achievements. The Shaw Mudge Award, sponsored by Ciba Corporation, went to Shaow Lin, PhD, Stephanie Postiaux and Joanna Newton, PhD, for their paper, "Vesicular Delivery Systems: From Phospholipids to Silicones for Targeted Skin Sites."
The Allan B. Black Award, sponsored by Presperse, LLC, went to Leila Song, PhD, Gabriel Uzunian, Betty Aucar and James Carroll, Jr., PhD, for their paper, "Complex Effect Pigments: Innovative Solutions for Ethnic Color Cosmetics."
The Hans Schaeffer Award, sponsored by Arch Personal Care Products, went to Michael Daley, PhD, and David Koenig, PhD, for their paper, "Removal of Microbial Pathogens from Skin Using Magnets," and the Joseph Ciaudelli Award, sponsored by Croda, Inc., went to Karin Keis, PhD, Craig Huemmer and Yash Kamath, PhD, for "Effect of Oil Films on Moisture Vapor Absorption on Human Hair."
The Frontiers of Science Award was presented to Buddy Ratner, PhD, for his paper, "Rebuilding People: The Coming Era of Tissue Engineering." Ratner presented on his findings earlier in the conference, stating: "I believe that tissue engineering will revolutionize medicine and cosmetic strategies within the next 10 years."
Then, the Maison G. DeNavarre Award was presented to Kevin D. Cooper, MD, for his work in the biology of ultraviolet-induced immune suppression, which has been critical in the design of sunscreens with photoprotection beyond sunburn protection.
The Technology Showcase exhibited a range of new introductions into the cosmetic pantheon, included Dow Corning's silicone resin waxes, that among other benefits deliver enhanced fragrance retention; Momentive's silicones and boron nitrides, for a soft focus, natural appearance; Dupont Tate & Lyle's new Zemea Propanediol, a petroleum-free choice to replace glycols as emollients, humectants, and viscosity enhancers; and EMD's Xirona Volcanic Sparks Cosmetic Pigments, which offer distinct color travel from metallic red to copper to gold, as well as high transparency and gloss. BASF also showcased the color correcting properties of complex effect pigments, driven by optical physics, to address both skin appearance and protection, with such materials as Flamenco Pearlescent and Iridescent Pigments and Gemtone Colors. In addition, Bell Flavors & Fragrances showcased BellTanicals, newly developed botanical blends available in four distinct "green" categories.
CEW's Beauty of Giving Holiday Luncheon
Cosmetic Executive Women honored The Estée Lauder Companies with its 2008 Beauty of Giving Award. Accepting the award was Thia Breen, president of Estée Lauder Worldwide. The annual event benefits Cancer and Careers, which aids employees with cancer and the people who support them, including their employers, coworkers and caregivers, by providing practical guidance, free publications, educational seminars and support groups, as well as a comprehensive Web site.
In acknowledging the support of the sponsors, including the Lauder family, and in particular Evelyn Lauder, who was present at the event, and the Breast Cancer Research Foundation, founded 17 years ago by Lauder and Self magazine, Jacobson reminded guests: "It's easy to forget how lucky we are, and the beauty industry and the Lauders have set the standard. They have created a company of philanthropists who care enough to commit to improving the lives of women everywhere."
Sue Devitt Launches SpaComplexion
Sue Devitt, the Australian-born international makeup artist who launched her own brand of cosmetics, presented the newest addition to her globally inspired, health-conscious brand. At an event held at New York's Park Avenue Winter restaurant, Devitt, with business partner and CEO Eric Horowitz, welcomed the press to sample SpaComplexion, and learn about its ingredient technology and beauty aesthetic.
Devitt, whose extensive product development experience spans the U.S., Australia and the Far East, utilizes high performance formulations that include minerals, vitamins, pro-vitamins and nutrients within her color cosmetics, most notably in her foundations, which feature seaweed complex. SpaComplexion features her signature microquatic complex of hydrating ingredients, and her new hydrating marine minerals contain a time-released delivery system that increases skin moisture and vitality with sea butter, sea fennel extract, chamomile, sea salt extract and water lily extract.
Available in three formulas, including SpaComplexion Hydrating Marine Minerals Tinted Moisturizer SPF 15, SpaComplexion Hydrating Marine Minerals Pressed Powder Face Palette and Spa Complexion Hydrating Marine Minerals Loose Powder SPF 30 Compact, the products are oil-, talc- and paraben-free. The Tinted Moisturizer includes potassium, magnesium, silica, zinc, vitamins A, C, E and B5, orchid extract, sea fennel, titanium dioxide and zinc oxide, for broad-spectrum protection against UVA and UVB rays.
In addition, Devitt presented her Microquatic Lactic Renewal Facial Peel, an advanced antiaging serum with lactic acid to improve skin tone, as well as Microquatic Oxygen Infusion Masque, a purifying facial mask with a dual result, which Devitt demonstrated. Through self-foaming activation, oxygen molecules are released into pores to remove environmental impurities from the skin. The action infuses the skin with hydrolyzed soy protein, blue algae and chamomile extract to restore the skin's natural oxygen level. The product is recommended for use in conjunction with Microquatic Lactic Renewal Facial Peel for optimal results.
Global influences and formulary acumen highlight the products in the line, and such Pressed Powder Palette shade families as Mozambique (fair), Mauritius (light), Zanzibar (medium) and Seychelles (dark), in addition to the Loose Powder Compact's shades, which include Tuvalu (light), Moorea (medium) and Manihiti (dark), convey that diversity and global nature of the brand All the products, ranging in price from $32 to $62, are available online and at Barney's New York, Harvey Nichols, Ulta and Facelogic Spas.
Coty Launches 'Oceans'
Bernd Beetz, CEO of Coty, and Karen Murray, president of Nautica, invited press to discover a new innovation in fragrance technology at the launch of Oceans. The presentation, held at New York's Xchange, was all about the water, which forms the heart of the newly-developed, water-based formulation and headspace technology that extracts the essence of sailcloth from a sailing yacht, brisk ocean air, sea salt rose and lavender reef to deliver its scent, as well as its environmental message.
Oceans' packaging includes a faceted glass bottle with an embossed glass porthole, a silver cap replica of a sailboat cleat, environmental support for the materials from the Sustainable Forestry Initiative, carbon neutral certification and an outer carton produced by a wind-powered facility.
"Nautica Oceans is a breakthrough project from Coty that has pushed the boundaries with a new ecological fragrance for men," Beetz said. "Its packaging is great, its name is great and the product is great, as it fits in the zeitgeist of sustainability." Murray then announced the project's support of and collaboration with Oceana, an organization dedicated to restoring and protecting the world's oceans. Founded in 2001, the organization works with marine biologists and other ocean scientists to return oceans to abundant health on a global scale.
In keeping with the theme of the launch, "The Waves of Change," the innovative water-based fragrance represented a departure from traditional alcohol-based fragrances. The formula is biodegradable, contains a lower percentage of volatile organic compounds and was developed under an exclusive agreement between Mane USA and Coty Beauty.
Frederic Jacques, vice president of technology, fine fragrances, Mane, spoke about the eight-year development of the company's patent-pending microemulsion technology, which overcomes insolubility, mixing essential oils with water. The technology is 100% biodegradable, environmentally sound and delivers a fragrance as long-lasting as alcohol-based fragrances. "Because it is water-based, it is less irritating to the skin and delivers olfactive innovation with a unique extraction technology," he said.
The Water Pure Eau de Toilette Spray, Soothing After Shave Balm and Alcohol-Free Deodorant Stick will launch, along with the original fragrance, in March 2009.