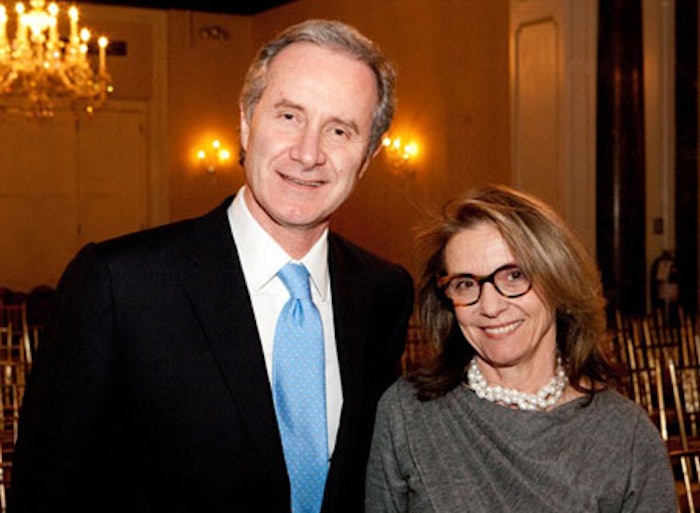 On Jan. 28, 2010, Cosmetic Executive Women (CEW) featured Fabrizio Freda, president and CEO of The Estée Lauder Companies, at a sold-out Newsmaker Forum, held at New York City's Harmonie Club. Carlotta Jacobson, president of CEW, welcomed Freda and announced his presentation, "Leading Through The Changing Face of Beauty." Freda, who assumed his current role at Lauder in July 2009, holds the position as the key architect of the company's long-term strategic plan, and is responsible for developing and achieving its overall vision, strategy, financial objectives and investment priorities. He is also a member of the company's board of directors.
Freda focuses on a strategic plan that includes prioritizing resources to the most promising opportunities, making further investments in consumer knowledge, driving innovation and creativity through products and services, and expanding geographic penetration. It also calls for greater integration across the company's brands, regions and functions to create cost efficiencies and leverage scale.
Change and Diversity
Jill Scalamandre, moderator and CEW chair, introduced the discussion with a reference to Freda's reputation as an "über change agent," one who recognized the importance of change as the "essence of progress." Freda noted that, "Any good change must focus on a few fundamental things, and that once change was defined and you have looked reality in the eyes, you can create a new vision."
"I've been going around the globe, and I've tried to learn about the organization and tried to make any changes taking place very clear to everyone," said Freda. "I believe incremental change is a way of changing that is relevant. Utilize reverse engineering, and ask yourself where you want to be in five years and figure out what you need to do it. The mix of these two approaches normally provides companies with a strong advantage.
"I learned that William Lauder always said 'Semper Nobis,' meaning always change—and I believe that an analogy of the frog who jumps from the boiling water illustrates this concept." Freda explained that if a frog jumps in boiling water he will jump right out. On the other hand, if he gradually adjusts to the water, as it gets hotter and hotter, it will be too late for him to jump out. Clearly, his reference referred to the need for potentially disruptive change to achieve results.
"Getting a big organization behind change is a challenge. The alignment is essential; with 29 brands, some very different from one another, it's been complicated by very separate entities," he said. Freda noted that he wanted to utilize the best resources for the brands and keep the diversity of the brands in alignment. "The main activity is to align, leverage, scale and differentiate, which is what is happening at this moment. After alignment comes execution, where you invest heavily in the areas where you want to grow.
"By 2020, China will be as [key] as the U.S. market. In addition, 50% of women around the globe are women of color, and we need to invest more in the creativity, the heart of our strengths, to reach those diverse consumers," noted Freda.
Changes will manifest in a variety of ways, with Freda noting that he wanted to see the company becoming truly global. "You can develop and take the best technology of China and Brazil, for example, and bring it to the rest of the world. This is a big ambition. Most companies are very well anchored to their home markets, but we are hoping to bring the innovation and best creativity and technology to the total company and, ultimately, for the globe," he said, adding, "In this way, we can be a symbol for the entire industry."
He noted the diversity of markets around the world, from high-end consumers in the growing Chinese market to the optimistic Turkish market and the diverse Brazilian market, largely centered around mass products. "It's a big opportunity, and it can only be [met] by creating the right prestige mix, with self-standing stores, and digital media as well," said Freda.
When asked about changing consumer behavior patterns, Freda said, "I don't think this is the new normal. It could be for the next year or two. The consumer in North America is much more sensitive to quality and the experience of the product. Today's women are much tougher in judging value. If coming back means she's spending more, than I'm all for it, but for the prestige cosmetic market, which sells beautiful products that deliver performance, it also sells customization, education, and a moment of service." Freda cited MAC stores, where consumers can learn how to apply makeup as an example of the prestige experience. "You get emotion here, I'm not sure you get that in a mass store. We call this 'high touch' service, which has a lot of value for women," he said.
Communication, Leadership and Competition
On the subject of communication and the Internet, Freda said, "The digital world is a two-way communication. I see a movement from the way of advertising to the idea of story telling. In 10 years, we may be speaking about story tellers, like in villages 1,000 years ago, where people of the village told stories to the other villagers, and these [stories] traveled from village to village. Outside North America, in Latin America or Asia, we see the world going in different directions. The most exciting consumer is now in Asia. They are optimistic, feeling everything is possible, 1.3 billion people feeling this way is very powerful."
Regarding leadership, Freda said, "There's strategy, being able to connect thoughts to see the future, and creativity is also key. In the end, I expect it from everyone. There's another creativity that comes from connecting the dots. It's creativity that is more accessible to individuals. I also believe in the ability to serve, and I believe in leadership from every chair. The concept of service is important. They may set the vision, but a good leader knows how to serve and how to say thank you. That brings back the power to the vision."
When asked what keeps him up at night, Freda joked and said, "P&G Prestige." To elaborate, he stated, "Obviously, I mean the capable competitors who manage mass. The real competition is to know where the consumers of the future will go, and the real fight is between mass and prestige. It's going to be a tough proposition." He emphasized, "I want to meet the real people. I keep physically close to the consumer, and I read very carefully all the consumer information and data from around the world."
In response to Scalamandre's query about what Freda believed would be his key legacy, he replied, "My key legacy point is to become a truly global company. The second element of my legacy is that I've inherited a jewel. I need to give back even better, and more recognizably at every level of the company, and recognize and continue to utilize the talent that makes this the company of choice for people to work. My work will be finished when the quality of our results will reach the quality of our people."
Additional information may be found at www.cew.org.