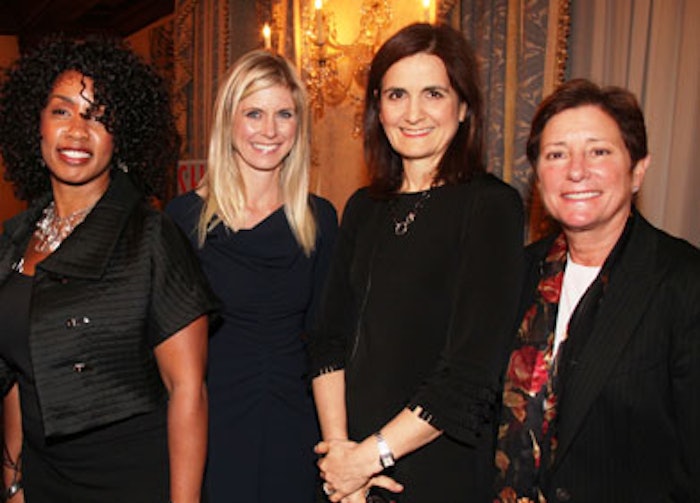 Cosmetic Executive Women's (CEW) Women in Beauty series—held Oct. 14, 2010, at New York City's Harmonie Club—enlisted the expertise of four panelists who discussed the challenges and strengths in today's beauty marketplace in a presentation titled "The Retail Roundtable." The event—introduced by CEW chairwoman Jill Scalamandre and Shape magazine beauty director Ellen Miller—featured panelists Marla Malcolm Beck, founder and CEO, Bluemercury, Inc.; Karen Grant, vice president and global beauty industry analyst, The NPD Group; Sharon Rothstein, senior vice president, marketing, Sephora USA; and Nancy Schmidt, group vice president, divisional merchandise manager cosmetics—trend & prestige, Macy's.
Moderator Jenny Fine of WWD opened the discussion with a query into the state of the beauty industry as it transitions from recession to recovery. Grant noted, "We lost more than a half billion dollars in 2009, but now we are expected to get back to pre-recession levels, so that's a healthy sign." She said that skin care, followed by makeup and then fragrance, were the categories showing the strongest recovery. "Total prestige brands are up 3% and are slated to reach 11%. Makeup is also strong, and fragrance has risen into the positive. The fine department stores have recovered the most, and overall department store sales are growing in skin care and makeup."
Also emphasizing that consumers today are looking for the greatest and the newest offerings, Grant said of the recovery, "It's not just in dollars, but in mood." Rothstein cited innovation and newness as drivers of business. "Sephora.com is an integral part of our business and the largest store we have," she said. "We now have more than one million reviews online, so when I talk about the research we are doing, I'm talking about ingredients as well as what consumers say to each other."
Schmidt provided an overview by segment, saying, "Our business has been very good. The treatment business has been great, and Internet business is growing, although it is not yet where we want it to be. Our fragrance business has been terrific—with launches from Chanel and Gucci, for example—men's grooming has come back dramatically and skin care also continues to grow. We're getting good, solid generic growth. We feel really good about what is going on."
Malcolm Beck noted that skin care was strong for Bluemercury, and shared her optimism about 2011. "Active technical skin care still rules, and the eye category is showing growth due to technology, as well," she said. "Customers want [products] that really does something." She noted that eye and lip pencils with better technology are also attracting consumers.
"We see a lot of growth in serums," offered Rothstein. "Innovation is really driving skin care." Schmidt concurred, adding, "Customers are more savvy today. They want products that work, and they are not afraid of technology."
She further noted there has been a revival in the lip category, citing Chanel's Rouge Coco as an example. "Lipstick is really coming back," she said, adding that samples of Rouge Coco sent to beauty advisors helped to create excitement for that product particular product launch.
"Customers are flocking to new lip stains, and lashes are also on fire for us," said Rothstein, noting that products providing volume and shape, including entries from Dior and Givenchy, are providing great options for consumers.
Color palettes also generated enthusiasm, with a yin and yang approach, and some offering "pops" of color as well as neutrals. "[Sephora] customers want classics plus specialty and trends," said Rothstein, who acknowledged that the marriage between beauty and pop culture has been a success for Sephora, with such offerings as Kat Von D cosmetics as well as Tarina Tarentino representing the interaction of fashion and beauty. "Each product attracts a different audience," she added.
Experiential Consumer Connections
"Consumers are coming in for innovation, but not for scary innovation," said Grant. "They are often drawn to the natural and the technical, like a new delivery mechanism. In addition, where women hesitated to spend on themselves, they are now [spending]. They are cautious, but are looking for meaningful purchases—whether they are identifying with the brand or knowing and communicating with their beauty advisor [creates the meaning]. Today's customer is spending, but more thoughtfully than she did before the recession hit."
"It's about 360-degree marketing; e-mail is a significant part of what we do, as well as utilizing social media to build traffic and relationships,' said Rothstein. "In addition, the right event strategy is important. They are all part of the puzzle." Malcolm Beck cited newness and offering solutions as strategic, while Schmidt said that offering gifts with purchase that allow a choice of components also appeals to customers. Grant acknowledged that the whole social media experience is driving more people to the stores. "It creates an energy that excites the consumer." Rothstein added, "Social media is strong for us. With 800,000 Facebook fans that really talk to each other, this is a strong area.
"Connecting clients to consumers online is important, but it is hard to measure right now if our online business is impacting traditional retail in the stores," said Malcolm Beck.
In response, Schmidt announced the opening of the Impulse Beauty Shop concept shops at Macy's, which feature an open sell format of beauty brands, making a variety of beauty products accessible and easy to sample, on the beauty floor. "What's exciting for us is to have a platform like this, that gets these trendy brands into the store. These are brands that young customers want."
Regarding hair care, Grant cited dry shampoos as gaining popularity, and acknowledged brands such as Ojon and Carol's Daughter for bringing innovation to their products. "We're also beginning to see more of what consumers want to do for themselves with hair care, for example, supplementing with the salon," she added.
When the discussion turned to the holiday retail season, several approaches were discussed. Rothstein suggested that partnerships were important, noting that hair care products at Sephora were positioned as offering an" experience."
"We present the product, for example Bumble & Bumble, and also connect [the product experience with consumers' stylists]. So that is an interesting partnership," said Rothstein. "Sephora wants to offer great differentiation with great marketing, and social media playing a new role."
Malcolm Beck noted that today's consumer has already done a lot of research before they buy. "Many women come in and have already diagnosed their skin, so they know what they want." There is also an emotional reaction to certain products, she noted, citing the natural and organic sectors as adding growth to the beauty arena. "You not only hear about naturals and organics, you see it in the sales. Growth has been tremendous," she said.
The panelists agreed that experiential consumer connections were integral to beauty. "It's really about the product story itself, what it delivers and its point of difference. That's what the story has to be about," said Rothstein.