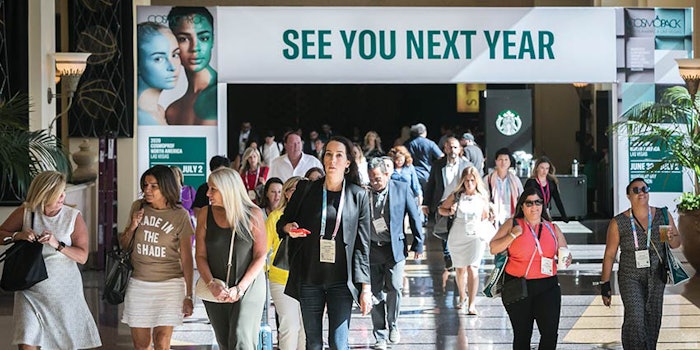 There was no denying the influx of CBD products at the 2019 Cosmoprof North America held in Las Vegas. The beauty industry's "it" ingredient turned up in CBD-born brands and established brands incorporating CBD into their products.
Further reading: Packaging & Turnkey Highlights from Cosmoprof North America
"Everyone was showing CBD," said Allan Lever, CEO of Hollywood Alliance Canada/Look Beauty Products. "It's a big industry but there are currently many players. The major retailers will only sell one or two brands, yet there are hundreds."
CBD is branching out in unexpected ways, such as HighOnLove, a sexual wellness brand that incorporates CBD into its oils and gels. However, the legalities of CBD continue to impact its sales.
Amanda Washton, an attorney with Conkle, Kremer and Engel, warned, "Companies must be more careful with packaging. Stick with cosmetic claims instead of its effects on a function or structure of the body. Those are drug claims that can't be made [in cosmetics]."
While CBD was a feature, this was not a CBD show.
Here is a rundown of some examples of the other trends we discovered at Cosmoprof this year:
Attainable Naturals
Natural and organic is here to stay, confirmed Lever, whose company is known for introducing international trends to the American market.
"People don't want to pay a premium for natural," he said. "The prices for natural are coming down to make natural more attainable."
Silicone Sleep
Silc Skin makes it easier than ever to get your beauty sleep. Founder and special effects makeup artist Camille Calvet, who is backed by 25 years in the industry, has crafted an anti-wrinkle pad from SFX silicon that sits comfortably on the skin and works its magic on your chest, neck and under-eyes while you sleep.
British Invasion
Skin Chemists London, the hugely popular U.K. company, has finally made it over to the United States. This one-stop shop for all luxury skincare needs has a variety of high-end skin care brands, including skinPharmacy, Dr. Facelift and Gold Serums, a series that contains 24K gold. From cleansers and eye creams to moisturizers and serums, their collection will leave you feeling fabulous and fresh.
Flower Power
When it comes to the latest in skin care, peptides are popping up in everything from masks to serums. Inspired by the flower of life, Forever Bloom developed its neuropeptide technology to de-age—not just offer anti-aging.
Only the Essentials
For the best rose water spray look no further than The Aroma Shop, a skin care company based in Korea. This essential oil water spray is better absorbed into the skin for a refreshing and nourishing experience because, unlike other sprays, it's made without dilution. 
Natural and Essentially You
The professionals at Macadamia Hair claim to provide 100% natural and highly nourishing hair care for every woman and every hair type. With a collection as diverse and unique as its customer base, this is a great choice for any woman looking to switch up her routine for something more natural and perfectly tailored to her texture.
Yay for Vitamin A
Whether you're new to using retinol or are well-versed in this miracle oil, Retinol Treatment by Skincare Cosmetics has a collection of retinol products for both men and women. The brand's products contain the powerful ingredient, retinol palpitate, and—best of all—are some of the most affordable retinol products on the market!
Solution at the Source
More hair care professionals are realizing that healthy hair begins with a healthy scalp. That's why Mediceuticals' line of hair care products work to reduce hair loss and thinning hair by treating problems at the source such as dermatitis, psoriasis and dandruff. 
Go for Gold
Formulated by the same team that created the highly popular Moroccan Oil products, the Moroccan Gold Series offers customers natural hair care for every hair type. Plus it's packed with all the good stuff: argan oil, shea butter, keratin and vitamin E.
Give Your Hair a Minute to Be 
One of Spain's most well-known cosmetics companies is bringing its glamour stateside. With everything from hair dye to tattoo creams to pollution protectants, Nirvel is a comprehensive source for beauty professionals and novices alike. It takes just one minute for Nirvel's Express Hair Mask to moisturize, nourish, boost body and detangle hair for healthier shine and less weight.
A Step in the Right Direction
Feet fungus can be an ugly and irritating condition to fix. Kick it to the curb for good with ProbElle. Its line of 100% natural foot care products contain a patented formula that's tough on nail fungus but soft on skin. And it works.
Hemp for Hair
The hemp craze is here to stay, with hemp oil and other byproducts finding their way onto just about every shop and shower shelf. Be in Beauty has developed a line of hair care products enriched with cold-pressed hemp seed oil to naturally fortify hair with strength and shine.
Super Charged Sip
Elevate your water-drinking experience with the Gemstone Vial. Vitajuwel's line of water bottles brings a beautiful modern twist to an age-old tradition, infusing water with the natural energies of crystals to deliver holistic healing and refreshing taste.
Beach Beautiful
Summer may be over in the Northern Hemisphere, but L'alga makes it possible to stay beach beautiful year round. Using ocean technology, L'Alga has infused its salon products with a "cocktail of life"—a potent mixture of ingredients distilled from the most resilient plants, algae. It may sound strange, but algae is actually essential to prevent and repair hair damage.
All Things Clean
"I love finding small brands and giving them a spectacular space to show their wares," said Mary Bemis, co-curator of the event's Discover Green section and editorial director, Insiders Guide to Spas. "This year, the section, which is always super busy featured 40 clean brands."
The Discover Green section is truly a space for these smaller brands to shine. A trusted trend watcher in the industry, Bemis spotted some other green trends of note on the show floor, including more environmental sun protection, fewer toxic deodorants and the more natural defining of brows.
About the Show
This year, the event introduced CosmoTrends report, showcasing key trends spotted among Cosmoprof North America exhibitors. The report, curated by global beauty trend forecasting agency BeautyStreams, also highlighted notable brands and products.
According to Liza Rapay, Cosmoprof show director, "CosmoTrends and the Trends Corner generated a ton of buzz. We also achieved record-breaking numbers of attendees, exhibitors, and show floor space, so the goal is to maintain the momentum and think of new activations for 2020. Our goal for our exhibitors and attendees alike is to keep connected with them year-round. Through our collaborations with leading beauty associations and publications, we were able to secure exclusive content containing relevant market-driven data. We want people to see Cosmoprof North America not only as an annual trade show, but as a trusted beauty industry reference as well they can keep coming back to."
Nancy Trent is a writer and speaker, a lifelong health advocate, a globe-trotting trend watcher and the Founder and President of Trent & Company, a New York-based marketing communications firm with an office in Los Angeles and New York City.
Trent & Company, which launched many fitness brands, grew out of Nancy's personal commitment to helping people live longer and healthier lives. A former journalist for New York Magazine, Nancy has written seven books on healthy lifestyles, serves on the editorial boards of several magazines and travels around the world speaking at conferences and trade shows on trends in the marketplace.
She is a recognized expert in PR with more than 30 years of experience creating and managing highly successful campaigns. Nancy can be reached at (212) 966-0024 or through e-mail at [email protected]. You may also visit www.trentandcompany.com.