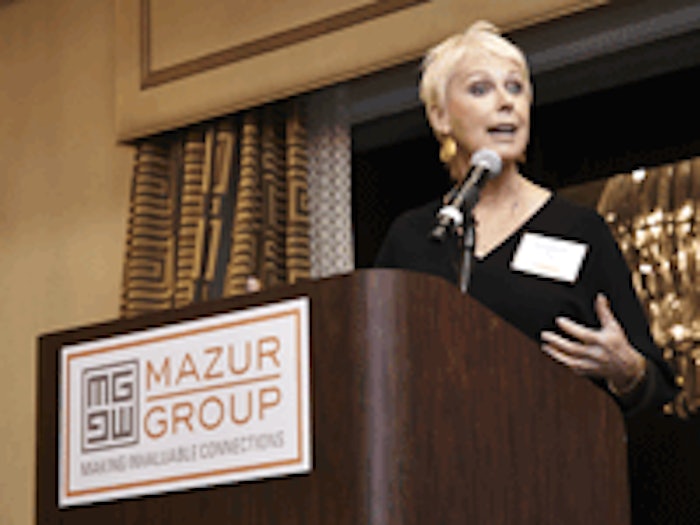 Beauty branding and innovation were the key topics discussed during the Beauty Biz Roundtable 10 event held at the Le Méridien Delfina Santa Monica on November 5, 2013. The sold-out beauty industry event featured thought leaders including Michelle Sorro, former on-air host at HSN, Inc.; Candy Gebhart, senior director of marketing for Joico; and Doug Schorr, head of consumer research at Beachbody LLC; along with keynote speaker Jan Lombardo, president of Go SMiLE Inc.
Hosted by Mazur Group, the BBR series brings together 100 mid- to senior-level beauty executives in a roundtable format that fosters networking and idea sharing. "The West Coast has an incredible amount of beauty industry executives who are all passionate about what they do, but have very limited opportunities with direct interaction. We created the BBR series to give beauty industry executives a chance to meet and connect with each other on a more intimate level," said Frances Mazur, the president of Mazur Group.
Beauty executives enjoyed engaging roundtable discussions with nine BBR10 Thought Leaders on various topics:
Don Frey, principal consultant for Frey Consultant, discussing "Key Steps to Building a Product and Package Strategy to Complement Your Brand"
Candy Gebhart, senior director of marketing for Joico, talking on "Risky Business: 10 Gutsy Marketing Moves That Will Make Your Brand Cruise"
Susan Goldsberry, president and CEO, and Claudia Stephens, marketing consultant, Benchmark Cosmetic Laboratories, presenting "Beauty & Innovation—Knowing How & When to Break the Rules"
Jan Lombardo, president of Go SMiLE, Inc., sharing "Critical in Small Companies—How to Choose and Develop an Entire Team Invested in Company Success"
Adrienne Kramer, CEO and president of Pro Beauty Partners, addressing "What to Expect From a Broker (Rep) and What They Can Expect From You"
Charlie Perer, partner at Intermix Capital Partners, LLC, explaining "Financing for Emerging Beauty Companies"
Doug Schorr, head of consumer research at Beachbody, LLC, covering "Using Consumer Research to Refine a Brand"
And Michelle Sorro, former on-air host at HSN, Inc., shedding light on "Behind the Scenes—Strategic Tools for TV Retail & Multimedia Sales Success"
BBR10's keynote, Lombardo, has more than 25 years of beauty industry experience as an executive for Estée Lauder and VP of sales for North America for Calvin Klein. In 2009, she joined Go SMiLE, Inc. as VP of global sales and marketing, and in just three short years, was named president.
Lombardo discussed how creating and developing an entire team can lead to major success in small businesses. In her roundtable discussion, she shared Go SMiLE's core competencies regarding employees: 1) They must be an expert in their field; 2) they must be able to mentor and train others; and 3) they need to be flexible, likable, and have a sense of humor. "A workplace should be an enjoyable experience since you spend the majority of your time with your colleagues," she explained. Lombardo also emphasized the importance of understanding the skills and loyalty of current employees, being extremely transparent with employees, and always remaining positive.
The unique format of BBR allows guests to interact directly with thought leaders and other attendees in three rounds of 35-minute, thought-provoking, roundtable discussions. "Our BBR events are truly one-of-a kind in the beauty industry. Attendees are given the opportunity to sit down in small group settings with industry peers and executives. BBR isn't a lecture or a panel discussion. Our roundtables are highly interactive, so everyone has a chance to speak directly with their peers and more importantly, with the Thought Leaders," Mazur explained.
Emrah Kovacoglu, founder and CEO of Total Beauty Media Group, commented, "Mazur Group's BBR events are extremely unique in the beauty industry. The combination of detailed and intimate conversations about key beauty topics, along with organic networking opportunities within the roundtables is incredible."
"The caliber of thought leaders and attendees at BBR is always impressive. The level of genuine interest and learning of new topics is always great," said president of ipsy and previous BBR9 thought leader Jennifer Goldfarb.
BBR10 Sponsors included Beachbody LLC, Benchmark Cosmetic Laboratories, Beauty Inc, derm exclusive, firm body evolution, Go SMiLE Inc., Intermix Capital Partners, Joico, MMS Consultancy and Pro Beauty Partners.