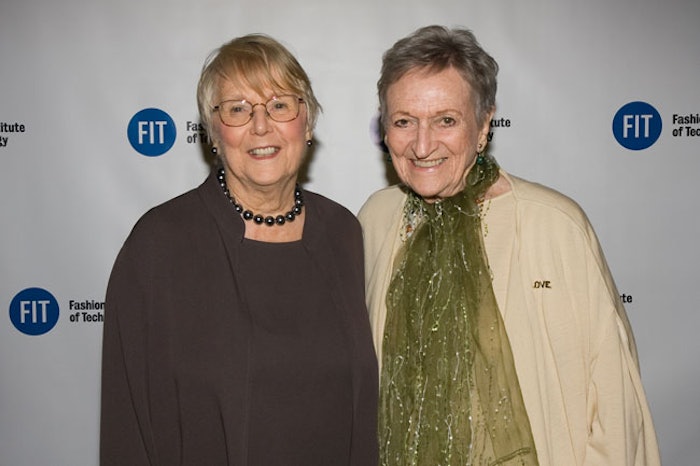 The 25th anniversary celebration for the Fashion Institute of Technology (FIT) Cosmetics and Fragrance Marketing baccalaureate program, held February 11, 2014, honored notable graduates of the program: Tennille Kopiasz, senior vice president, U.S. marketing, Coty Prestige; Orrea Light, vice president, product development, global cosmetic marketing, L'Oréal Paris; Bettina O'Neill, vice president, divisional merchandising manager, cosmetics and fragrance, Barneys New York; and Shaunda Swackhamer, vice president, global product innovation, The Estée Lauder Companies.
The event also honored Annette Green, president emeritus of The Fragrance Foundation (who was central to the development of the FIT program) and Peg Smith, the program's first coordinator—the pair also presented the awards to the honored graduates. GCI sister publication Perfumer & Flavorist spoke with Green about the beauty and fragrance industries. It was in response to industry demand that the FIT Cosmetics and Fragrance marketing baccalaureate program was officially established in 1988, and it expanded its offerings further in 1993 by opening the Annette Green Fragrance Foundation Studio, a fragrance development laboratory.
Green explained her drive and passion for olfactive study dated back to working as a journalist for Scripps Howard and Hearst. "When I was hired as an editorial assistant, I was closest in age to teenagers—I was in my early 20s," Green said. "They gave me a column to write to tell the druggists how to sell cosmetics and fragrances to teenagers. So I went to my local drugstore in Newark, and I asked [if I could] work there on Saturdays to find out why they are buying fragrance. Like they say, 'It doesn't make you younger, thinner or richer, so why do you wear it?' Because it has a real psychological impact. And I had to convince the industry as well. It wasn't easy."
Eventually, Green created her own agency, Annette Green and Associates, which focused on fashion and beauty. Around that time, The Fragrance Foundation was nearly defunct. "They called me, they told me the whole story, but they said, 'You can take it, but we won't pay you,'" Green remembered. "And I said, 'Well, I'm going to take it because I believe in it.''"
Fragrance was only a half a million dollar industry then, Green said, but she took on the project because she loved fragrance and believed in its growth potential. "I always grew up with it," she explained. "I had a mother who was an absolute dedicated addict to fragrance. And I just always wore fragrance. I couldn't understand why American women didn't wear fragrance in those days. That was really the challenge. Entering into the first year [as the Foundation's president], I did something called 'The Wardrobe of Fragrance' [campaign], and that was just when women were starting to go to work, so it was perfect timing. I felt my job was to convince them that as you change your clothes to go to work, you also should change your fragrance. That was very important because at the time, companies only introduced one fragrance every five or six or 10 years. But once I got women convinced of this, companies got the message that they could introduce another fragrance and make it very popular, whether it was sporty fragrances, or business[like] fragrances, or sexy fragrances or fashionable fragrances. There's no limit, obviously. That's where it's at today."
Green also said today's fragrance industry needs to shift its selling approach to consumers. "They don't sell it in the right way in my opinion," she said. "They should be selling it for its psychological benefits and not as a luxury. We did a whole ad campaign in the 1980s that said 'Stop and Smell the Memories' and it was just perfect … [Fragrance] really has to do with your well-being. Fragrance can relax you and stimulate you and make you feel more successful."
Barneys New York, Coty Prestige, The Estée Lauder Companies, the FIT Alumni Association, Firmenich, Gurwitch Products (Laura Mercier, RéVive, and nyakio), L'Oréal Paris and Mane sponsored the reception and awards ceremony.
Additional information about the program is available here.