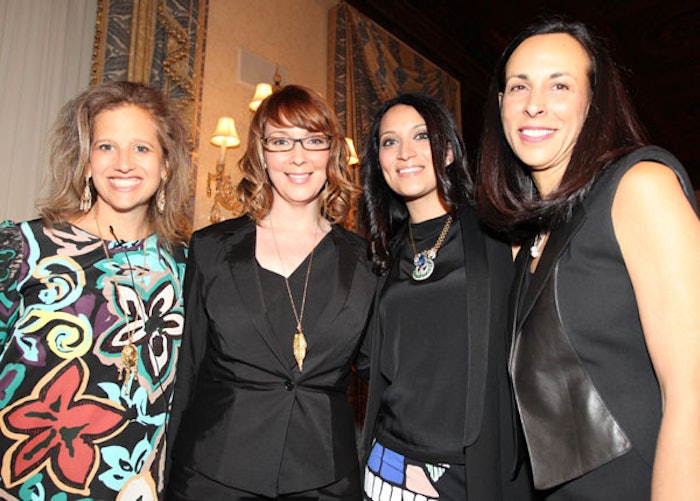 On Thursday, April 19, 2012, Jill Scalamandre, chairwoman, CEW, and CMO, Chrysalis, welcomed attendees to the sold-out presentation of "Behind The Strategies of Social Beauty's Top Brands," the latest edition of Cosmetic Executive Women's Women and Men in Beauty Series. Noting that U.S. companies are expected to generate $77 billion in sales on social media by 2016, according to Forrester Research, and social media, therefore, is indeed an area of commercial significance.
Scalamandre also introduced the evening's panelists: Rachael Ostrom, executive director, consumer engagement, Aveda; Alexis Rodriguez, executive director, public relations, Bobbi Brown Cosmetics; Marisa F. Thalberg, vice president, global digital marketing, The Estée Lauder Companies, Inc.; and moderator, Jenny Fine, editor, Beauty Inc. 
Fine began the presentation noting that attendees had been surveyed prior to the presentation as to which social network they believed reached the greatest number of users. While Facebook and Twitter had garnered strong support among respondents, Fine revealed that Google Plus was indeed the front runner, outpacing both Twitter and Facebook with its reach.
Social Media Is Here To Stay
Responding to a question about how she would define social media, Thalberg, who is charged with supporting the development of world class digital and social marketing across Lauder's collection of more than 25 prestige brands, said, "Social media represents a profound change that is irrevocable. It's a dialog. It's conversational. The media is the message, however, dedicated social channels contribute to our marketing via digital conversations. There's enormous complexity to social media in our industry. The first job is how you're going to win where the bigger platforms are. We're certainly looking at Tumblr and Instagram (different ways to share content online) and determining how to bring the most value to our brands with the right platforms."
Aveda's Ostrom, added, "We strategize around bringing customers to our diverse campaign stories, which include a strong environmental story. We help our guests and take them on a journey with our brand." Ostrom, who has been with the company for 12 years, is responsible for cause-related marketing, digital marketing, loyalty marketing, advertising and e-commerce at Aveda Corp., and has worked to position the company as a leader within the beauty industry, as well as an environmentally-conscious corporation.
Rodriguez, who has more than 12 years of experience in public relations and brand development, has been instrumental in developing the technology component of Bobbi Brown. In two years, she has helped implement a comprehensive social media strategy, resulting in a 177% increase of Facebook fans and a 243% increase of Twitter followers in one year. In 2010, she played a prominent role in launching Bobbi Brown's sixth book, Beauty Rules, with a strategy focused heavily in social gaming and vlogger (those who do video blogging) relationships. Most, recently she oversaw the launch of the brand's Pinterest page (an interactive bulletin board of sorts), where engagement regarding ideas, visual content and information surrounding the brand occurs. Rodriguez said she utilizes social media to create brand advocates and encourage engagement. "It's important to incorporate social media into our brand, and publicists need to get social influencers engaged in the brand, which brings more consumers to the brand," said Rodriguez.
Thalberg offered that social causes lend themselves to social media. She cited the Breast Cancer Awareness campaign run by Lauder. The "Shine A Light on Breast Cancer" campaign made news around the globe, as the initiative sought to turn a light on different places and different women's stories around the world. "People want to share their stories and 30 countries have participated in the awareness raising campaign," said Thalberg, who noted this was a particularly poignant time for the campaign, particularly since the loss of Evelyn Lauder, whose efforts were so instrumental in raising funds and awareness of the companies' breast cancer initiatives.
Other campaigns, including Aveda's Clean Water initiative, have been aided by technology. Ostrom cited the Clean Water campaign on Facebook, which utilized tweets on Facebook that said "Everyone deserves access to clean water."
Moving from an environmental message, to an initiative that touched the hearts of Bobbi Brown fans, Rodriguez explained the Bobbi Brings Back Lip Color campaign, which was launched in response to customers' requests to bring back discontinued lip shades that were shown to be most in demand by customers. "This campaign created a great level of social engagement," noted Rodriguez, who said that in October, via F- (Facebook) commerce, they will be bringing back six shades for a limited run. Rodriguez noted the popularity of the social interaction, saying that 25% of the Bobbi Brown fan base had participated.
Mastering The Platform
"With Aveda, we believe it's best to have social media campaigns managed by a cross-functional team," said Ostrom.
Rodriguez added, "Content sparks conversation, which sparks engagement." Bobbi Brown, which just launched Friends & Family on Facebook, has a mantra, according to Rodriguez. "Don't be everything to everyone. Master the platform that you're on and plan to win," she said.
Thalberg concurred, saying, "A portfolio company with 70 brands [i.e. Lauder] sees the opportunity to look at our brands at an enterprise level and see where apps may be best matched. Some of the more emergent partners may not have as strong a marketing platform, so it's also about partnering and bringing a true marketing collaboration to the relationship. We look at it corporately, but we want to optimize the places where we're playing to win." She cited the role of the "community manager," who oversees the social community where the engagement takes place. "The community manager has bloomed across many of our brands, so we have a community of community managers to host their brands' conversational identity online. We also have a strong community manager training program in place," said Thalberg.
"There's an enormous amount of content creation involved," said Fine, inquiring as to how the content was managed. Ostrom offered that she and her Aveda team hold monthly brainstorming meetings for content. "At a base level, we're looking at a pyramid structure, where brand voice and engagement strategy are based on content," she said. Thalberg noted that there are different types of content and that relevancy in the long-term, really supports the brand. "You have to look at whether the conversation is really building the right kind of equity for the brand," she said.
Rodriguez cited the use of Twitter handles, the "Ask Bobbi Brown" initiative, the utilization of Pinterest and "Everything Bobbi Brown," platforms that enable social interaction with Bobbi Brown herself and follow her travels, all give her consumer a deeper look and engagement with the brand. "We can share this with our consumer via Bobbi Brown's blog, which is available in numerous languages, including Korean and Mandarin Chinese," said Rodriguez.
And commerce can be a direct outcome of social media.
"Social commerce is the socialization of the online shopping experience, and we've been participating in it for several years," said Thalberg. "Still, an incredible part of how we do social commerce includes experimenting with initiative-based commerce, like F-commerce. We all know the power of peer influence, and that's a big part of the social commerce experience." 
The event's sponsors include Shape, Givaudan, Mark, 24 Seven Inc., HauteLook, Beauty Inc, Behaviour Interactive, WWD, Kaplow Communications and Indelible.