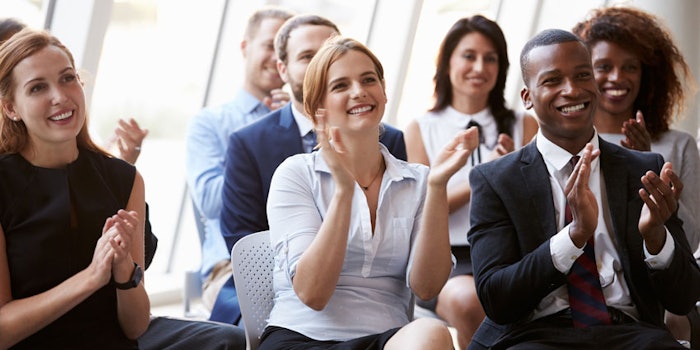 On January 31 and February 1, 2018, the 2018 ADF&PCD Conferences will take place in Paris. 
The following are the conference programs for both the ADF and PCD.
The ADF Conference Program 
Wednesday, January 31, 2018
Global Market Trends and Regulation
9:30 - 10:00 am
Legislative Threats and Opportunities - Alain D'Haese, FEA, European Aerosol Federation
10:00 am – 12:00 pm
Trends and Regulations on the Global Market - president, Laurence Joly, L'Oréal
Metal aerosols: The Winner of the Circular Economy - Dimitrios Soutzoukis, Metal Packaging Europe
Brexit and Its Consequences for the Aerosol Industry - Patrick Heskins, BAMA
Progress Report by the PARG Working Group - Scott E. Smith, Plastic Aerosol Research Group LLC PARG
The USA and Global Legislative & Regulatory Issues Affecting the Aerosol Industry - Steve Caldeira, CSPA
How to Encourage Young People to Take up a Career in the Aerosol Industry? - Ghania Degobert, Université de Lyon
Aerosol Technologies Production: Technical advances and innovations
Presidents - Nathalie Thys and Jean Blottière - GSK / CFA vice-president
Existing and Next Generation Aerosol Innovation - Jason Galley, Ball Aerocan
Multi Propellant Leak Detection - Tom Hunter, Emerson
Latest Technologies for Inline Final Inspection of Aerosol Cans - Ralf Freiberger, Mühlbauer Group
Unleashing the Power of Digital Decoration for Mass Production - Ofer Nir, Velox Digital
Fine Mist with High Flow Rate and Viscous Formulations: Impinging jet micro nozzles - Anne Mechteld Mosman, Medspray
Eco-design and Sustainable Development: Challenges and prospects
Presidents - Peter Lamboy, Johannes Burghaus, Virginia Janssens - Kao Europe / Procter & Gamble / EUROPEN
Development of an inerting device for aerosols in selective collection centers - Laurent Bastida, CITEO, ex-Eco-Emballages
Mostafa Aboulfaraj - France Aluminium Recyclage
Sustainable Steel Solution for Aerosol mounting cups - Quentin Benito - ArcelorMittal
Thursday, February 1, 2018
10:00 – 11:45 am
Aerosol & Dispensing Technologies: State of the art
President - Bernhard Felten - Beiersdorf AG
P'tit Sniff, an Innovation to Smell Perfumes - Valérie Pasmanian, Le P'tit Sniff
New propellants - Green alkane gases - Sandra Esteves, South Wales University
Latest Paints and UV-curing Technologies for Coating and Protecting the Externals of Aerosol Cans - Gerhard Passenegg, Schekolin/Salchi
From Paper to Plastic – How rapid tooling influences development time - Heinrich Heppenheimer, Mould2Part
Emulsion and Foam Stability in Aerosols - Cecilia Martins, Colep
How to Make Actuator Customization Available at Low Investment and Short time - Damiano Marsilli, Coster
Thursday, February 1, 2018
Metal Can Packaging: How metal packaging can inspire the aerosols industry and vice-versa
12:00 pm - 3:30 pm
Circular Economy of Metal Boxes: From vision to multi-player action - Arnaud Rolland, Coca-Cola European Partners France
Steel for Packaging, Model for a Circular Economy - Alexis Van Maercke, The Association of European Producers of Steel for Packaging
2017: The breakthrough year of digital printing for round hollow bodies - Alexander Hinterkopf, Hinterkopf GmbH
The Optimum Steel Beverage Can - Cécile Piquemal, ArcelorMittal
The PCD Conference Program 
Wednesday, January 31, 2018 
Global Trends: The latest trends in beauty packaging
9:30 - 10:45 am
This session will explore the latest global trends and how they are dominating the beauty packaging game globally. This will also include the concept of futurology. Questioning the status quo, challenging our preconceptions and dreaming big, futurology is about looking at trends across every spectrum, especially those beyond your category horizon, and seeing how they could impact you.
Session moderators: Hervé Bouix, Estée Lauder; Delphine Horvath, Fashion Institute of Technology; Helga Hertsig-Lavocah, Hint Futurology; Marielle Belin - La Marque & la Manière
The Consumer Vision of Packaging (Consumer trends)
11:00 -11:30 am
Look at the latest packaging personal care. Learn how to anticipate and respond to key consumer-led shifts, manufacturing innovations and material developments that will shape the market. Inspirational design directions and cues for developing more compelling products across skincare, cosmetics, haircare and beyond, will be highlighted.
Session moderator: Philippe Devismes
Packaging Design Expert and Diadem Managing Director (Panel Discussion)
11:40 am – 1:00 pm
Re-inventing the relationship with consumers by imagining new scenarios at the point of sale
The glass of the shop windows disappears, the products become accessible, and retail spaces turn into realms of interactive experience. How to customize and connect a display case to allow consumers to get information about the instructions for use, product ranges, or product news.
Session moderators: Tanguy Chen Laurent, Creative Capital; Noémie Rognon, Pozzo di Borgo Styling SA;  Xavier Dietlin, Dietlin Artisans
The Collaboration of Brands and Suppliers
2:00 - 3:15 pm
Purchasing, R&D, product development and technical packaging teams are constantly collaborating with their suppliers to develop innovative products: co-development, open innovation, open development. This policy enables them to control the traceability of raw materials and packaging components used for finished products, and to ensure secure and steady supply chains, as well as compliance with international labour standards and respect for human rights.
Session moderators: Pascale Marciniak-Davoult, Chanel; Matt Hornby, Foilco; Antonio Scotti, Tapematic S.p.A.; Steve Paschky, Saralon
Workshop presentation - ESEPAC and ESP schools students from the packaging and perfume schools will report on their collaboration to fulfill a Chanel marketing brief pertaining to perfume.
Innovation funding and CSR – How to save money with innovative ideas (panel discussion)
3:30 - 4:30 pm
If you want to make a company sustainable, you need to review all its facets with an innovative vision through the lens of CSR. These innovations must be sustainable and accountable and include all the internal and external dimensions of the company. This innovative vision must be fully integrated into the company's strategy and be led by the most senior executive.
Session moderators: Pierre Meurice, INNOV. Conseil; Jean-Yves Pelicier, INOVAFI; Marie Roulleaux Dugage, Institut National de la Propriété Industrielle
Thursday, February 1, 2018
Sustainability and Digital Technologies – Are digital technologies the way forward to become a more sustainable business?
9:30 - 10:45 am
Every day, we send emails, we surf the web, we archive videos, photos or music in the Cloud. We often feel that the whole process is immaterial and almost free, but it is not. Computer, ADSL boxes, routers, cables, servers, storage units, telecommunication equipment: the equipment needed is real. Just like the consumption of energy and non-renewable resources to make and operate them.
Session Moderators:  Vincent Gallon, PremiumBeautyNews.com; Julien Barreau, Lush; Maryelle Allemand, Rise Emerging Culture
The Challenges of Packaging in eCommerce
11:00 am - 12:00pm
Does packaging design have an impact on business?
In an evolving retail marketplace, companies will need to consider a lifecycle approach to designing products and packaging to meet varying requirements of online and offline retailers, growing customer preferences and a changing regulatory landscape. Both online retailers and producers will need to work together amidst this changing landscape and take a closer look at their products, packaging materials, processes, logistics and end of life management to drive material efficiencies and reduced greenhouse gas emissions.
Session Moderators: Michel Fontaine, Conseil National de l'Emballage; Stéphanie Havard, Procos GmbH; Jean-Marc Megnin, Shoppermind (Groupe Altavia); Carine Guerbet, Neopost Shipping; Jean-Philippe Homehr, DS Smith
Is Design a Tool for Making Packaging More Innovative?
3:30 - 4:30 pm
Demands placed on multi-action products on the market run high and packaging must reflect their multi-functional character in a clear, accurate manner. Product packaging design should be such that the consumer gets the message immediately.
Session Moderators: Olivier de Lataulade & Pierre Ducastin, L'Oréal; Pascale Gauthier, Faculté de Pharmacie de Clermont-Ferrand; Laurent Hainaut, Force Majeure + Orb; Didier Cosson, Didier Cosson Design
The Innovation & Technology Theatre
The Innovation & Technology Theatre (ITT) is an area of the conference focused on showcasing suppliers' latest innovations, new products or their most recent launches.
Suppliers scheduled to speak at ITT include:
1. Scheufelen
2. Esko
3. Alternative Packaging Solutions
4. Pochet Group
5. CS Smart Connect
6. Bormioli Luigi
7. DSColor
8. API Group
9. Metsä Board
10. Verescence