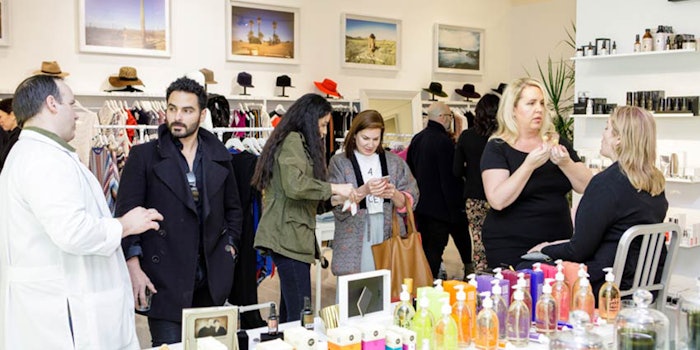 Cosmoprof North America (CPNA) co-hosted a sneak peek of the latest global beauty trends at the Ron Robinson flagship store in Santa Monica, California.
The event included a panel hosted by CPNA marketing director Daniela Ciocan featuring Ron Robinson, Andy Howell of MatchCo and LA fashion week producer Arthur Chipman, who discussed how to differentiate between trends and fads, and how trends become part of the culture.
Among the trends highlighted were girl power, portability, sustainability, cooling, ingestible beauty, and the marriage of beauty and technology, among many others. Brands—many of whom were making their US debut—were displayed throughout the store, and several participants offered product demonstrations. At the end of the event, guests were given gift bags including some of the products on display.
Related: Cosmoprof North America Introduces Beauty Vanities
"Cosmoprof is the only beauty platform that offers a truly global showcase to the industry, spotlighting beauty trends and innovation from around the world," said Ciocan. "I was very excited to showcase several trend directional products and be able to round out the experience with incredible insights from these distinguished gentlemen who provided a unique and well-rounded perspective from across different fields."
Companies participating at the event included (trends presented in parenthesis):   
From Cosmoprof Worldwide Bologna 2018                                
1.      Gellé Frères, France (Girl Power)
2.      Skin Regimen, Italy (Anti-Pollution)
3.      Snowcrystal, Sweden (Sustainability)
4.      Teaology, Italu (Edible)
From Cosmoprof North America 2017                       
1.      Aria Beauty, USA (Mood)
2.      Glycelene, USA (Cooling)
3.      LeChat, USA (Inspired)
4.      Lisse, USA (Cooling)
5.      Spynx, USA (Portability)
6.      Supermood, Finland (Sleep)
From Cosmoprof Asia 2017                              
1.      Auro Mask, Taiwan (Beauty and Technology)
2.      HiShine, Philippines (Beauty and Technology)
3.      Maskingdom, Taiwan (Portability)
4.      Plabio, South Korea (Beauty and Technology)