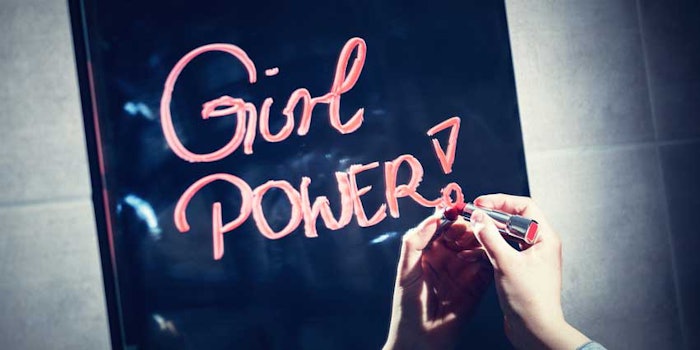 On January 22, 2020, Cosmetic Executive Women (CEW) hosted the Female Founder Awards ceremony and panel discussion to honor six female beauty entrepreneurs. 
Honorees included:
Amanda E. Johnson and KJ Miller, co-founders of Mented. During their acceptance speech, Miller stated, "As beauty enthusiasts, we were tired of feeling like brands weren't speaking to us." 
Rae-Ann Silva, founder and CEO of BeautyBlender. SIlva currently owns 100% of her company, which has sold 50 million beauty blenders. She said, "I took a big chance and re-invested everything … I learned to be resourceful, I learned to be patient and I learned to overcome obstacles." Her advice for beauty entrepreneurs is "trust your gut, take your time, and don't feel like you have to make a decision right away."
Dr. Barbara Sturm, founder and CEO of Molecular Cosmetics. According to Sturm, who has a background in orthopedics, she is "an overnight success… that took 15 years." Her advice for beauty entrepreneurs is to embrace change and listen to customers. 
Rose Marie Swift, founder and president of RMS Beauty. During her acceptance speech she stated, "Ten years ago, the concept of clean beauty didn't exist … today, we're witnessing a shift. What I love most about this generation is that they hold me—and every other brand—accountable. I'm excited to innovate against the old standard. It's in our DNA."
Charlotte Tilbury, founder, chairman, president and CEO of Charlotte Tilbury. She said during her speech, "I saw white space in the market for 'easy to choose, easy to use' cosmetics. When you see white space, you want to disrupt the world." The brand will reportedly be doing a lot more in the skin care category in 2020. 
The evening's panel was moderated by the executive beauty editor at WWD, Jenny Fine. 
On balancing art and creativity:
Charlotte Tilbury (CT): "I always believe in art and commerce" the creatives in her business know how to crunch the numbers, and vice versa.
Rae-Ann Silva (RAS): "I don't know everything, but I have a talent for recognizing" those who are experts in their fields.
KJ Miller (KJM): "We had a problem we needed to solve, so it wasn't an analytical thing or a creative thing—it was a real-life thing."
On the evolving landscape:
Dr. Barbara Sturm (DBS): "Understand that your customer is super educated" and looking for immediate results.
CT: "We have all these platforms … there are so many ways to communicate with your consumers. I realized I had to educate the consumer," and that was a white space that social could help her fill. She also noted that, while consumer feedback is great "You have to keep inspiring them" because they don't even know what all can be innovated.
On scaling:
KJ: "It can't just be you and your homegirl." 
RAS: "Figure it out now—because you're going to have to move quickly" when the retailers come calling.
On unique challenges to women:
KJ: "[The guys in the suits are] used to being the one who knows the most," so you have to assert yourself as the expert.
BS: As a woman who started out in a male-driven field, she likes being underestimated.
CT: "I love to be challenged because it makes you think disruptively."
Are things better for women now?
KJ: "Straight-up dismissal' isn't acceptable anymore, but the people at the table are "having a hard time letting go" of power.
On how to delegate your time:
CT: "For me, it's all about strategy" and noted that "a real founder understands it all," even though they can't physically do it all. "You scale with an amazing team, but you have to have that vision."
On standing your ground:
RMS: "At the beginning, I'd go home and cry," but "It's all about education—without that, we're not going anywhere."
On the next year:
KJ: "Mented is venturing into retail, which began with Macy's and they had a great debut with HSN."
CT: "Taking over the world, darling," i.e., expanding throughout the world with a particular focus on Asia, Europe and the U.S.