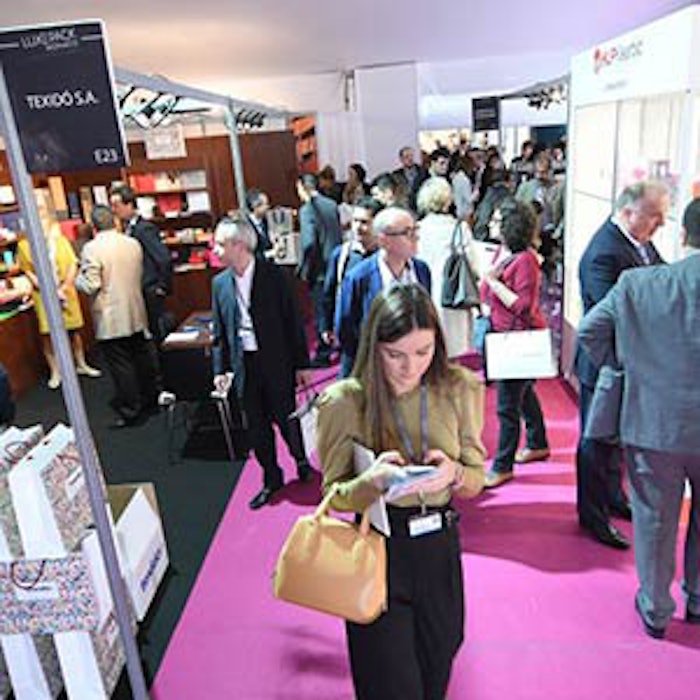 Luxe Pack Monaco has announced the conferences and workshops for its 2018 edition.
They include:
Monday, Oct. 1
The Green Skin Care: Is it Becoming a Market Pre-Requisite?
Emmanuelle Couval, R&D director, Strand Cosmetics Europe
From vegan and bio to COSMOS and ISO standards, this workshop will discuss naturality frameworks, balancing consumer wishes and brand requirements, and challenges and opportunities for formula professionals. (11:00 am-11:30 am)
Cold Process Emulsion: Moving Wards Greener, More Effective Formulations
Lucille Battail, founder, Laboté
A discussion focused on the advantages and disadvantage of cold process emulsions, including its impact ecology, process speed and stability of active ingredients. (11:45 am-12:30 pm)
Natural Sun Protection/COSMOS: Combining Effectiveness and Sensorality
Alicia Roth, business development manager, and Floriane Arnaud, R&D manager, Creapharm Cosmetics
As consumer concerns grow regarding the potential dangers of chemical filters and their eco-toxicity, formulators are developing natural sun products. The workshop will detail formulating effective natural sun products that offer technical qualities and sensorality while meeting regulations. (2:00 pm-2:30 pm)
Skin Care for Men Who Are Setting New Beauty Codes
Aline Johnstone-Bryden, export area sales manager, RPC M&H Plastics; Stéphanie Coccellato, managing director and co-founder, Archiman Beauty
A discussion designed to provide insight into the codes of the rapidly changing men's cosmetics market, including product and packaging trends, market growth and formulation. (2:45 pm-3:30 pm)
Textures, Materials, Sensorality
Muriel Hibon, founder and director, Effervescence Lab
A workshop featuring collections of all-new textures developed to fit emerging sensorial trends. (3:45 pm-4:15 pm)
Tuesday, Oct. 2
Are Innovation and Sensorality Possible in Organics?
Mélanie Le Jeune, R&D manager, Science et Nature
A workshop presenting natural COSMOS cosmetic textures and techniques. (11:00 am-11:30 am)
Solid Cosmetics: For Who, How, Why?
Fanny Preney, president, and Gwendoline Bressand, managing director, Dryudes
A discussion on the growing following of solid cosmetics, addressing who the consumers are, ethical packaging, and why a company should go "solid." (11:45 am-12:30 am)
The Latest in Niche Fragrances
Patrice Blaizot, president; Maud Daniel Chabanis, perfume maker; and Angélique Klein, project manager, PCW
A workshop detailing the hottest scent and packaging trends in niche fragrances. (2:00 pm-2:30 pm)
The Secrets of Japanese Beauty
Mayumi Tachikawa, founder and CEO, Makanai Cosmetics
Tachikawa will unveil the secrets of J-beauty, translated into a line of cosmetics, including technology and ingredients. (2:45 pm-3:30 pm)
Launching Your Brand: Success with Small Batches
Camille Mollica, cosmetics sales manager and Alexandre Barathon, sales director, Biotic
A workshop on choosing formulas, packaging, a brand name, distribution channels and more, outlining the ways small batches enable testing the market and ensuring the success of a range. (3:45 pm-4:15 pm)
Silicon-Free Mattifying Effect
Sabrina Etheve, sales and marketing director, Alpol Cosmetique
This workshop will feature Alpol showcasing the innovations and results of its decision to make identical copies of a full range of mat silicon textures using silicon-free formulas. (4:30 pm-5:00 pm)
Wednesday, Oct. 3
E-COS, the First Artificial Sensory Intelligence
Muriel Jacquot, Ph.D., co-founder and science director, Myrissi
Jacquot will present Myrissi's Artificial Sensory Intelligence, which reproduces the brain's natural functioning when it perceives scents and colors. After presenting the scientific background of the innovation, its use in fragrance and cosmetic applications will be illustrated. (11:00 am-11:45 am)
Developing a Cosmetic Range Respecting (EC) Regulation 1223/2009: Common Mistakes
Grégoire Tutenuit, founder and president, B2B Cosmetics; Julien Gros, manager, Pole Cosmetique
A workshop which will showcase concrete and practical examples of mistakes to avoid, and cases of non-compliance frequent detected by supervisory authorities, concerning BPF ISO 22716 and the cosmetic product information file according to (EC) Regulation 1223/2009. (12:00 pm-12:30 pm)
Slow Formulation and Dermatology: Combining Naturalness and Skin Tolerance
Marine Andre, founder, and Caroline Vandenabeele, scientific manager and medical advisor, Bee Nature
Andre and Vandenabeele will discuss slow cosmetics marketing pitches, natural formulas, considerations including skin tolerance and allergy/irritation risks and more. (2:00 pm-2:45 pm)
What's New in Beauty? The New Rituals
Fleur Bazin, brand and communications director, Oh My Cream!
Bazin will offer a list of "good practices" for creating and adopting the right beauty routine, for morning or night. (2:45 pm-3:30 pm)
Luxe Pack Monaco will be held Oct. 1-3, 2018, at the Grimaldi Forum.