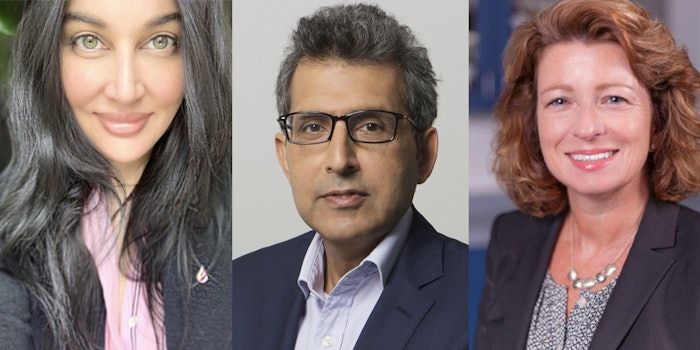 The World Perfumery Congress (WPC) 2022 is set to host a roundtable discussion with representatives from Fragrance Creators, Arylessence and Estee Lauder, titled "Fragrance Stewardship in a Digital Age."
>>Registration is open.<<
This roundtable discussion consists of fragrance professionals trying to answer the burning question, "what does stewardship mean in this digital era?" These experts will weigh in on how transparency, beyond formulation, is becoming increasingly important as a consumer demand as well as within the data ecosystems. Where is the industry moving? WPC 2022 attendees will soon find out.
Meet the Speakers
Farah K. Ahmed: Farah K. Ahmed is President & CEO of Fragrance Creators Association. Previously, she served as Chair, Strategic Industry Categories, for the Personal Care Products Council, and was appointed Convenor of the Cosmetic Marketing Group by the Organization for International Standardization (ISO). She earned a law degree from the University of Virginia and a Bachelor's Degree in physiology and biochemistry from Niagara University. @farahkahmed on Instagram, LinkedIn, and Facebook. 
Sumit Bhasin, SVP, Corporate Fragrance R&D, PD and Innovation at Estee Lauder Companies (bio soon to come)
Cynthia Reichard: Cynthia Reichard is the EVP and Director of Client Services at Arylessence. Arylessence brings dynamic fragrance and flavor innovation to clients around the globe from their headquarters outside of Atlanta. Since 1998, she has worked in many roles within the company and now leads the collaboration of teams in fragrance creation, innovation and client development.
Arylessence is highly invested in the unified cooperation and support of fragrance industry alliances. Reichard's active leadership and collaboration in key industry organizations include co-chair of FCA, Board of Directors member of the Household and Commercial Products Association and vice-chair of the American Cleaning Institute's Strategic Advisory Committee.
Visit www.worldperfumerycongress.com to learn more and register.