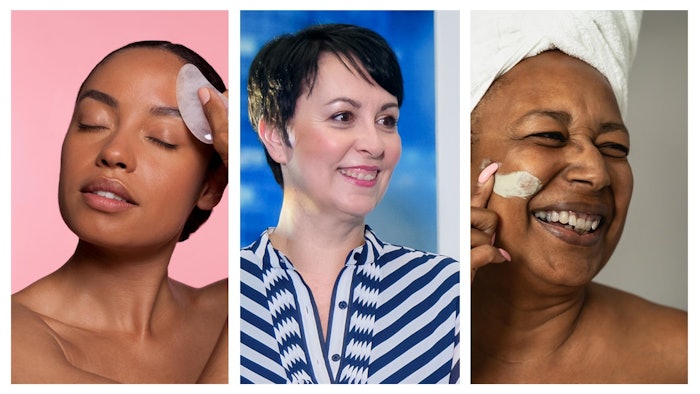 Consumers continuously face the twin pressures of time and environmental aggressors when it comes to their skin care concerns. And their go-to solution is anti-aging skin care.
A recent survey found that 98% of women agree that taking care of your skin at an early age is the best anti-aging approach, while 94% believe a regular skin care routine will help prevent visible signs of aging.
It's not just older consumers who focus on the prevention and treatment of aging. In fact, 37% of Gen Z respondents ages 18-26 already use anti-aging skin care.
Furthermore, 58% of Gen Z respondents who now buy anti-aging products say they first started to have anti-aging concerns at about age 23, compared to older shoppers who first experienced these concerns at age 35.
Next month, the 4-day Beauty Accelerate Virtual will host "Cutting-Edge Science in the Service of Skin: performance ingredients to fight aging and counter direct environmental exposure," an exclusive briefing from Nadine Pernodet, Ph.D., Senior Vice President at The Estée Lauder Companies (ELC), who will discuss holistic views of aging and the beauty technologies that can address them.
Aging and skin health are impacted by the entirety of our exposome, Pernodet notes, including internal and external factors constantly in flux. This talk will consider mechanisms of aging and skin health from a holistic perspective.
It will also consider facets of our being such as circadian rhythm, emotional states, stress and more, and explore ways to maintain balance for beauty.
Attendees will come away with new insights to fuel business planning, marketing and product development.
>>>REGISTRATION IS NOW OPEN FOR LIVE/ON-DEMAND ACCESS.<<<
About Our Expert
Nadine Pernodet, Ph.D., is leading Global Bioscience Group including, Skin Biology, Skin Physiology, Professional Beauty, Fermentation and Bioactives as well as the Academic collaboration network. Nadine is also the lead scientist to the Estée Lauder brand and serves as their Scientific Advisor, Innovator, and Spokesperson.
Nadine joined ELC in 2007, and since then has created an extensive track record of product innovation that has helped to transform the Beauty business and deliver innovations that have fueled iconic hero products and new products. As head of the Bioscience group, she has created a continuous stream of new scientific insights that have driven a pipeline of efficacious active ingredients to deliver high benefit to skin, new claims, new concepts, and new scientific communications and credentialing for successful global skincare launches such as Advanced Night Repair, Perfectionist Pro-Franchise, Supreme and Re-Nutriv Diamond. Resulting from these innovations, the Estée Lauder brand was awarded the Prestigious International Marie-Claire Prix d'Excellence for Research and Innovation in 2017, 2019, and 2021.
Nadine's technical leadership has driven new ELC's internal capabilities, developing new methods to research, identify, and support new technologies. She has also built new collaborations and partnerships and is recognized externally as an expert in Skin Biology. Her unique approach to the science of Beauty is to combine her extensive background in biophysics and biology to better understand skin bionetworks and to approach research through an interdisciplinary lens. She has been at the forefront of the research in Mechanobiology, Epigenetics, Circadian Rhythm (clock genes), Sirtuins, and Systems Biology.
Nadine has been actively involved in scientific research for more than 20 years in the private sector, as well as in Academia. She has published over 80 peer-reviewed scientific publications/chapters in journals and been co-inventor on over 32 patent families with over 300 worldwide submissions. Prior to ELC, Nadine was a tenure-track Assistant Professor at Stony Brook University in Materials Science & Engineering, Molecular, and Chemical Engineering and now serves as Adjunct Professor for the Chemical Engineering program. Nadine received her Ph.D. with distinction in Physical Chemistry from Louis Pasteur University and is originally from France.