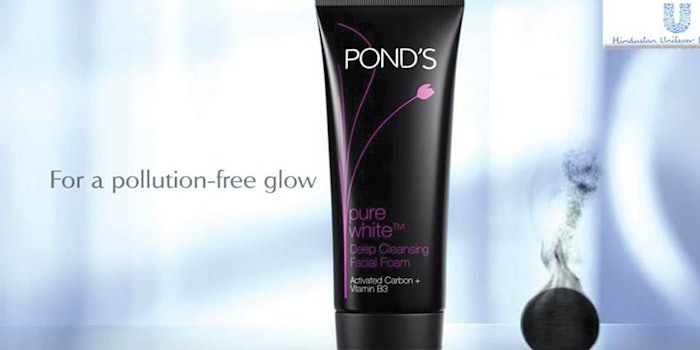 Awareness of pollution and the need to protect oneself against its negative effects has long been a concern of Asian consumers living in crowded, polluted cities. Mintel research reveals that pollution is the third highest concern, as ranked by 20 to 49-year-old Chinese consumers.
Sixty-one percent of consumers polled in China are very concerned about fine particulate matter, with another third expressing slight concern. The term PM 2.5 refers to air pollutants with a diameter of 2.5 micrometers or less, and it has become a key marketing claim in Chinese skin care products.
Previously: Silab's New Ingredient Combats Environmental Stress
In 2014, Max Factor launched their Smog Busters campaign in China, drawing attention to the issue by encouraging consumers to share their best makeup looks while wearing an anti-pollution face mask. We also saw smog masks hitting the runway during China Fashion Week, with designer versions of the commonly worn masks.
Further reading: Study Confirms Skin Forms Dark Spots Due to Pollution
Anti-pollution Goes Global
No longer isolated to the Asia Pacific, concern over the effects of pollution, as well as protection against it, has become a global issue. Although air pollution is less of a concern in the West, we still see some 30% of facial skin care users in the United States worrying about the effects of the environment on their skin, while one-third of women in the United Kingdom feel that environmental factors (i.e., weather and pollution) have an impact on the appearance of their hair.
Western consumers are already well-engaged with the concept of protecting their skin from the environment in the form of UV protection furnished not just by sunscreen products but also by daily-use skin care products and color cosmetics.
Expanding the concept of environmental protection to include pollution took a little bit more education. Many brands have launched campaigns that furnished consumers with valuable information helping them to adopt this new approach to skin care.
Anti-pollution Brand Innovations
A number of Western brands have taken cues from Asian products and brought the anti-pollution trend to a wider market with more accessible claims and product formats. They have taken a variety of approaches to addressing the issue of anti-pollution, and product claims can come in many forms.
Whether shielding the skin or helping to repair damage, new claims and new combinations of ingredients are being highlighted, helping drive trends, such as eco-friendly and natural formulations, as well as products that claim to help detoxify the skin.
Clarins launched a campaign with a focus on educating the consumer about the various pollutants they can be exposed to on a daily basis as a means to promote their new UV PLUS Anti-Pollution Sunscreen Multi-Protection Broad Spectrum SPF 50 Perfect Daily Defense.
The campaign not only shared information regarding the damaging effects of pollution exposure but also highlighted some of the key natural ingredients used in the brand's formulation.
Avon is another brand that has responded to the trend in a big way, even coining its own terminology to encompass the environmental aggressors that can impact skin: "urban dust."
The brand's website features a mini-site dedicated exclusively to the concept of urban dust and how it is a key factor in the aging of skin, highlighting Avon's range of products under the Anew Clinical E-Defence range.
Consumers can watch a video from senior chemists at Avon talking about the design of the products, or they can view a map to find out how high urban dust levels may be in their region.
Brand Repositioning
Some brands have taken an even easier approach. Rather than creating new formulations, they've just repositioned existing products with new marketing and advertising campaigns.
Simple Skincare is a great example, emphasizing the fact that exposure to pollution and other environmental aggressors can actually cause sensitive skin. The brand's website features a section on City Skin, with advice from dermatologists as well as tips on caring for your skin when living or visiting urban settings.
Engaging Through Form and Function
The uniqueness of some of the product claims, as well as formats, textures and packaging, are not to be ignored, either. We've seen some unique and innovative examples from the Asia Pacific, and their influence can be seen in recent launches in the West.
Aerosol technology lends itself perfectly to this new claims category, as many products are designed to be misted over the face to form a physical protective barrier that prevents the adherence of particulate matter and metal ions to the skin.
Following up on the concept of simply repositioning a familiar product format, something as simple as a facial cleanser can be elevated to new heights by positioning it as a detoxifying, anti-pollution treatment, helping to remove pollution as well as dirt from the skin after a long day exposed to the environment.
Transforming textures can also provide consumers with a visual or sensory cue that the product they are using is working as it claims to be. Color-changing face masks, effervescent cleansers, mousse-to-oil and gel-to-water are just some examples of sensory cues that can enhance the experience of the user.
The Next Wave of Innovations
Pollution will continue to trouble consumers, public authorities and manufacturers around the globe.
Product packaging will reflect this, calling out more specific sources and forms of pollutants. Product formulations will feature new anti-pollution materials but will increasingly be asked to provide proof of their efficacy.
Consumers will also want to see the proof with their own eyes. Wearable devices, such as LED wristbands with adjustable filters, will measure atmospheric pollution on a minute-by-minute basis, allowing consumers to monitor their own risk and respond accordingly.
Product formats will continue to evolve with booster serums representing a flexible and easy-to-use product form. Boosters allow users to amp up the protection level of products already in use, such as day creams and sun protection products, adding an additional layer of pollution protection.
Ingestible products will also play a large part in the war against pollution with antioxidant drinks, treats and pills adding another layer of protection from within, especially those designed to work in conjunction with topically applied formulations.
As Mintel's senior innovation and insights analyst, Sarah Jindal (sjindal AT mintel.com) regularly interfaces with key beauty clients and lends her expertise based on over 16 years of experience developing ingredient technologies for beauty and personal care. Her roles in marketing and product development covered all beauty and personal care categories with a focus on skincare and active ingredients.