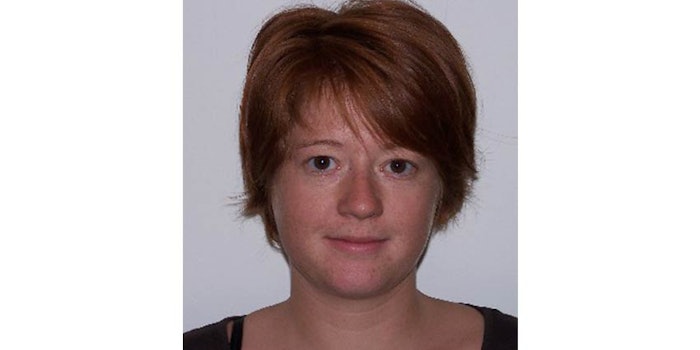 Nelly Dubrulle of DNA Gensee has been named the 2018 IFSCC Henry Maso Award winner.
Dubrulle will receive a trip to the 30th IFSCC congress in Munich, held Sep. 19-21, 2018, where she will be presented with her award.
The Henry Maso Award honors the best scientific paper published in the IFSCC magazine by a young scientist within the two years prior to the IFSCC congress. Awards are given every two years. (Congresses are held every two years, alternating with conferences.)
Related: Be 'Crazy' When You Imagine New Products
Dubrulle, a cell biology and fluorescence imagining engineer, specializes in cell culture (primary cell and cell lines), fluorescent labeling and transfections. She will be honored for her paper "DNA Metabarcoding as a Tool to Trace Plants of Interest in Ingredients or Cosmetics." She is a member of the French Société Française de Cosmétologie.
"I feel very proud. This award provides a chance to participate in a prominent congress in the cosmetics field and to get to know a network of scientists in this field," said Dubrulle. "As a young scientist, I had an opportunity to highlight DNA Gensee's research and I wanted to share it with cosmetic players. It is an honor to be distinguished and to be chosen among so many talented young scientists. It's brilliant and very motivating to contribute further to genetic sciences knowing that this work is recognized."
The next award will be given at the 2020 IFSCC congress in Yokohama, Japan; it is recommended that papers and entry forms be submitted no later than June 1, 2019, for sufficient time for publication consideration. Applicants must submit a full scientific paper in English on cosmetic or cosmetic related disciplines to IFSCC magazine, indicating their wish to be considered for the Henry Maso Award. Applicants must be 40 years old or younger at the time of submission.