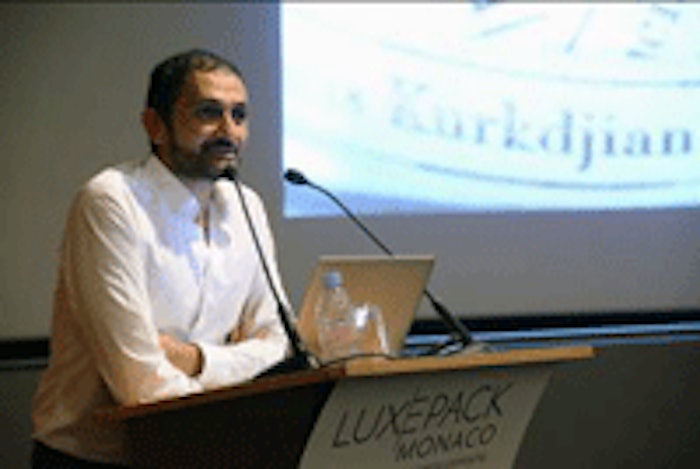 Reporting the figures for its 2013 event at the Grimaldi Forum, the 26th annual Luxe Pack Monaco welcomed 7,439 attendees this year (a 6% increase over 2012), as well as 400 exhibitors, which took place October 23-25, 2013. The exhibitors from top beauty packaging and development companies around the world showcased a wide range of materials and expertise, as well as myriad new launches, and attendees had the opportunity to learn rich and innovative content on major topical issues including trends, sustainable development, design and regulations, as well as the chance to make new connections in a positive and studious environment, leading to many promising projects in the pipeline.
The record 400 exhibitors, including 40 first-time exhibitors, presented specific expertise and techniques and desired materials such as glass, leather, cases, rhinestones and crystals, full service, and anti-counterfeiting systems and the range of creative packaging was particularly extensive. Luxe Pack Monaco comprehensively showcases companies and current expertise in the glass industry from all over the world. The roundtable conference that gathered European glass industry leaders was also very popular.
And beyond the sheer number of visitors, the industry professionals present recognized the quality of exchanges and the decision-making power of their contacts. Business exchanges were intense and many confidential business meetings were held on-site before the end of the event. Forty-six percent of visitors were French, and 54% were international from 77 countries. This year there was a marked increase in visitors from certain European countries (Italy and Spain, in particular) and the U.S., and the number of companies being represented was also raised. As exhibitors had rightly felt, there were more senior executives, in particular from branches and purchasing departments, visiting the event this year.
The guest of honor, Francis Kurkdjian, gave his presentation to a packed auditorium. The internationally renowned perfumer related his life story, thwarted vocations, and successes despite the odds very simply. The roundtable session on eco-design was also very popular with a panel of high-level speakers, very concrete feedback, and pertinent contributions by the Utopies Consulting Agency, which specializes in sustainable development. And the anticipated Luxe Pack Trends Observer session delivered its conclusions during a roundtable. Three trends were updated and deciphered by the experts present:
Deal with the devil: when vampires and sexy heroes inspire leading brands and their packaging;
Let's celebrate: the desire to celebrate everything joining a deeper need for rituals and allowing travel retail requirements to be met; and
History telling: brands reaffirm their roots, legacy, and history of their expertise to reassure consumers and attract more young people looking for references.
Luxe Pack Monaco 2013 also broke new ground by giving the floor to experts in the automotive industry who presented about the design-to'cost process that could be applied to the luxury sector. This process involves brands reversing their stance when dealing with suppliers to encourage them to use their transversal vision and asking them, "What can you offer us for this price?" for a project.
Also new this year were the very popular free consultations in semiotics, providing concrete answers to key questions for product managers and executives on topics such as adequacy of packaging or a logo with brand image and targeted positioning, evaluation of potential brand extension based on the packaging, and strategic recommendations to build a new brand which determine brand management and its development potential.
Additionally, American designer Marc Rosen, Hannah Stodell, insight editor at LS:N Global UK, Géraldine Bouchot, prospective studies manager, and Elodie Nigay, marketing project manager at Carlin International France, scoured the booths and displays for the three days of the event to find Luxe Pack's three "i"s: inspiration, innovation and ideas. A documented and illustrated report will be sent to visitors presenting the best of the event and giving them ideas for their projects for the rest of the year.
Networking at Luxe Pack Monaco 2013 was also at its peak in the exhibition's aisles and during the many side events, helping kickstart and bring along many fun, exciting, innovative product development stories.
The 2014 edition of Luxe Pack Monaco will be held at the Grimaldi Forum from October 27–29, 2014. For more information, please visit www.luxepack.com.