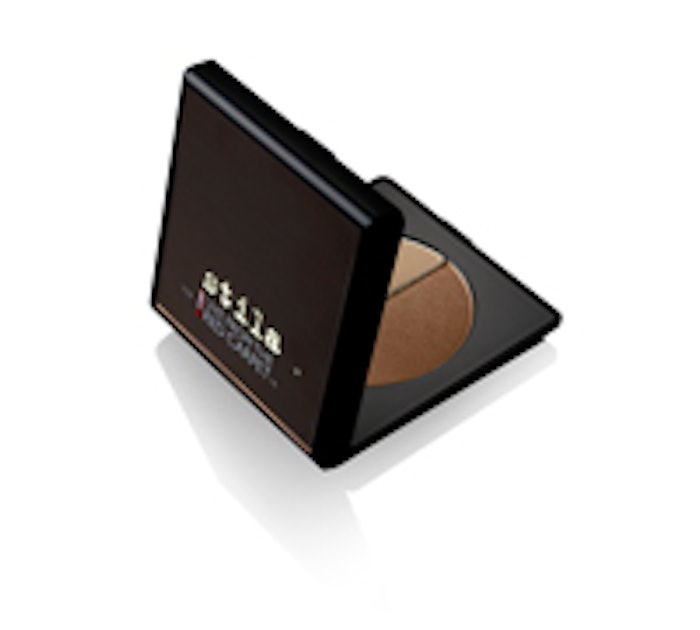 At the annual International Package Design Awards (IPDA), Stila won the category for "Innovations In Sustainable Packaging" for its Solar Illuminated Refillable Compact and Powder Duo for E! Live from the Red Carpet. This compact, supplied with a duo of refillable shimmering pressed powders, is among HCP's most innovative compacts to date and credit must be given to Stila for considering the origins and long-term future of its cosmetics products. Solar powered and fully rechargeable up to a thousand times, no main power supply is required for it to function. The glass solar cell panel has a five-year lifespan and is fully charged by nine hours of sunlight, and there's also a tiny, green star on the cover, which indicates the built-in lithium battery is recharging. When opened, LEDs illuminate the reversed out Stila logo on the cover, and the square halo of light around the internal mirror gives clear vision for application in any light conditions.
People News
The Lindal Group announced the appointment of Gonzalo Frejenal to the position of managing director of Lindal Argentina.
New Launches
Qosmedix added a family of roller ball bottles to its offerings, expanding its comprehensive packaging line. Made from durable polypropylene and polyethylene, these natural colored roller ball bottles with housing and cap are available in three different sizes: one, two and four ml. All three are an excellent vehicle for packaging and sampling fragrance, or other liquid-based formulations.
The new airless dispensers from DieterBakicEnterprises feature a fusion of premium design and cutting edge engineering. The company developed three distinctive airless systems: Pan, Aqua and Cosima. The Pan slim combines superb functionality with a distinctive product appearance and is designed to embody an elegant, pure and minimalistic look and at the same time emotionally captivate its observer with the soft smiling curve at the top of the actuator. The new Aqua Airless offers double-wall airless packs that integrate nicely into the Aqua Lux and Aqua range with a minimalistic and distinguished A-shape and heavy-wall PMMA outer shell. The appeal is super premium, and the numerous options for decoration and surface finish such as metallization allow for achieving high-end super premium looks. And Cosima was designed to touch the most premium senses of the consumer, with soft feminine contours that embody timeless elegance and a double wall structure to stress its luxurious appeal.
Quadpack debuted a sophisticated new foamer that meets demands for increased sustainability. The Eco Foamer uses a recycled PET (rPET) bottle sourced locally in Europe combined with the performance of Apollo's foam pumps. With high-end decoration options including color matching and metallized collars, this product is especially suitable for luxury organic brands. The rPET bottle can be made with either 100% or 50% recycled content, depending on requirements, and is available in standard 150 ml and 50 ml travel-sized packs. Three different meshes for the foam pump produce different densities to suit different applications, and moreover, with no metal parts in the product path, the pump helps safeguard formula integrity. A choice of interchangeable applicators can further enhance performance of the product, and besides the standard actuator, a silicon brush and a comb applicator can be used on the same pump.
Cosmogen introduced Silkness, a line of synthetic professional makeup brushes designed with hair that is made of a high density silky synthetic fiber with a natural appearance. Its qualities adapt to many different types of makeup formulas, allowing for a smooth pick up and flawless lay down, and the line includes a loose powder brush, a compact foundation brush, a concealer brush, a double-ended shadow brush, and a large eyeliner brush.
Two years after the launch of its Ultralight coffret, Cosfibel Premium is now offering a new version that is entirely foldable and glue-free. Ultralight is a patented packaging that is luxurious and ecological, as well as surprisingly lightweight while remaining stiff and thick. It also features a highly streamlined design with wide edges and sharp angles. The new version is entirely foldable and 100% produced in Asia or Europe without cutting corners when it comes to aesthetics or perceived value. To safeguard the sharp angles and allow the folding coffret to be more practical, it was conceived with the technique of scoring. This folding system relies on two grooves of 45° each that create a perfect right angle when mounted. And to assemble the edges, no more glue thanks to a detent system.
New on the Shelves
For its new Orchidée Impériale Cure, Guerlain relied on the know-how and expertise of Aptar Beauty + Home for an airless packaging that combines technical sophistication, practicality and luxurious elegance. Aptar oversaw the beginning-to-end project management for this new package, which combines special components created by a partner specialized in stamping, Tesem, with standard components from the Airless range such as the pump, activator and barrel. The special components include a body unit and a cap with extra weight. Each subassembly is comprised of an insert in colored PP with decorated with hot stamping and a gold anodized aluminum cap, itself decorated with silk screen printing and a base closure (with an extra weight) in gold anodized aluminum. To facilitate the packaging, these parts are delivered in two sub-assemblies: preassembled body and cap with the bracket that ensures closure of the system. A final detail entails a specific design to minimize slack in the different components to eliminate any clearance in the package. Adorned with precious gold and Guerlain blue, the four slimline bottles—15 ml each—in the new Orchidée Impériale Cure range slip into a presentation pouch.
Also, Ulta introduced a new line of grooming tools for men that uses packaging from Aptar Beauty + Home. Ulta Men includes Hair + Body Wash and Body Spray that is dispensed by a 24-410 Smooth Wall Disc Top Aptar closure and by Aptar's consumer-friendly Moritz Twist To Lock aerosol accessory, respectively.