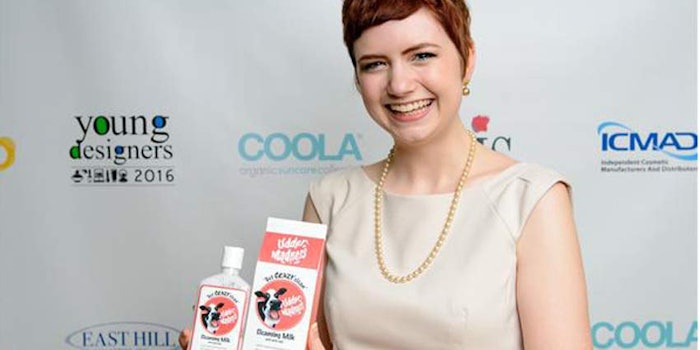 The Independent Cosmetic Manufacturers and Distributors (ICMAD) Association has become smitten with "Udder Madness" and the creativity expressed in the 2016 Young Designers Awards Competition.
"ICMAD is honored to provide this highly-recognized milestone along the path of such promising talent that may help launch professions in cosmetics and personal care," said Pamela Jo Busiek, ICMAD president and CEO.
The organization congratulated five of the top winners, who created whimsical packaging designs ranging from cows to cloaks, during a dinner ceremony on Feb. 18 at the Island Hotel Newport Beach, California. Keynote speaker Chris Birchby, founder and CEO of COOLA Suncare who is also an artist, was the keynote speaker at the event that 100 industry leaders attended. 
Previously: COOLASuncare CEO to Address ICMAD's Next Gen
Three Top Prizes 
The first place winner and recipient of a $5,000 cash prize was

 Nicole Shepherd, Academy of Art, Chicago, with her design, "Udder Madness."
The second place winner and recipient of a $2,500 cash prize was

 Emily Lora Harris, Colorado Mesa University, with her design, "Cloak."
The third place winner and recipient of a $1,500 cash prize was

 Stephen Finley, Colorado Mesa University, with his design, "Bearded Dragon."
Earlier: ICMAD Announces Finalists in Annual Packaging Competition  
Honorable Mentions 
In addition, two honorable mentions were recognized and awarded a $500 cash prize each:
Esther Betancourt, University of Las Vegas Nevada, with her design, "Tey Makeup Remover Lotion."
Sarah El Mouden, Miami International University of Art & Design, with her design, "DOCs Orders."
The winners received an all-expenses-paid trip to California to attend the Young Designers Awards Ceremony and tour three local cosmetics facilities: Benchmark Cosmetic Laboratories, Gordon Laboratories and The Beauty Collection. 
An Early Milestone 
Birchby said it was a pleasure to have the chance to encourage the paths of growing artists. "To be recognized as a role model for aspiring designers and innovators in the cosmetics and personal care industry is a humbling opportunity and one we at COOLA Suncare were so grateful to experience," Birchby added.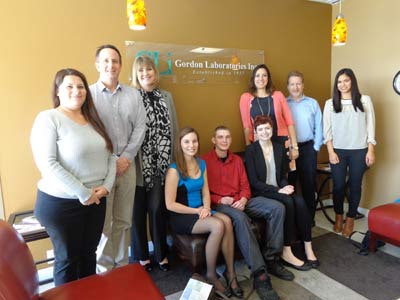 Gordon Laboratories Inc.'s CEO Greg Chambers, who was a judge in the competition, said he was proud to be selected by ICMAD as one of the three companies invited to host the award winners at their headquarters before the Gala Awards Dinner.
"With knowledge of package design in my background, I really see the value of this annual national program that fosters student excellence in graphic and packaging design," said Chambers. "Touring our facilities also offered these aspiring professionals a valuable insight into the field of personal care and the opportunities that lie within it for their future."
The winners and honorable mentions were selected among more than 135 student participants from 14 schools competing in the annual program that fosters excellence in graphic and packaging design among colleges and universities nationwide.