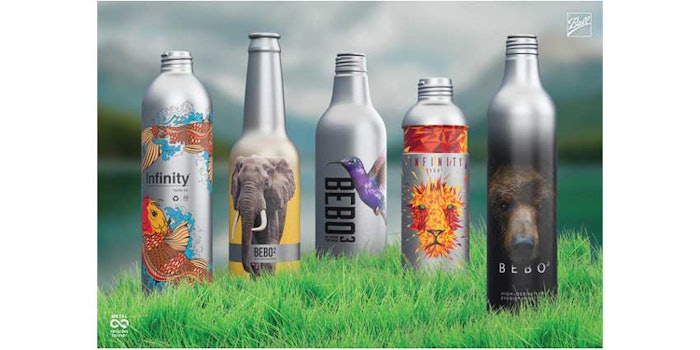 Ball Corporation has introduced its Infinity Aluminum Bottle, meant to provide a circular solution to plastic pollution. 
The impact extruded aluminum bottle line was reportedly designed to be made again. According to the company, the bottles are "infinitely recyclable and can be turned into other aluminum products over and over again."
The Infinity Aluminum Bottle line is available in various shapes and sizes and can be customized for beauty, personal care, food and beverage products. According to Ball, the line is suitable for packaging almost any liquid, including shampoos and conditioners, soaps, body creams, spirits, energy shots, yogurt, dressings, syrups and condiments.
The bottles have a re-closable threaded cap that allows consumers to twist the top on and off.
The line will be showcased at Booth V26 during the Packaging of Perfume, Cosmetics & Design (PCD), Premium and Luxury Drinks (PLD) and Aerosol Dispensing Forum (ADF), in Paris, on January 29-30, 2020.