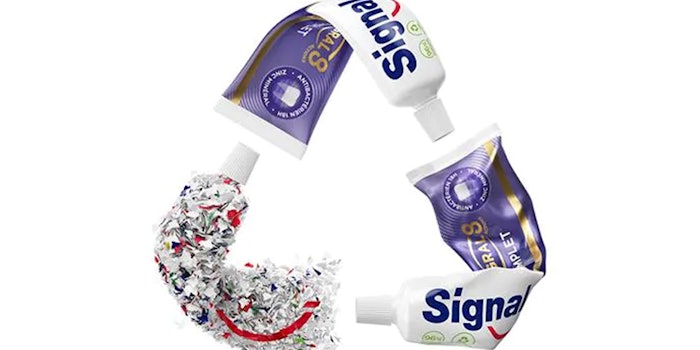 Unilever's Signal, Pepsodent and Closeup have announced plans to convert their entire toothpaste portfolio to recyclable tubes by 2025.
Related: Unilever, AstraZeneca Award XCellR8 £100K to Develop Animal-free Tests
The recyclable tubes will be available in late 2021 in France and India. First launching in France with Signal, the new tubes will be rolled out across its largest product range, Integral 8, which represents more than a third of Unilever's toothpaste portfolio in the country.
Instead of aluminum, the new tubes will use a material made mostly of high-density polyethylene (HDPE), a widely recyclable plastic. The thin, 220 micron plastic material will reduce the amount of plastic needed for each tube.
By 2022, the brands plan to introduce more post-consumer recycled plastic into its recyclable tubes in France and other European markets. 
To encourage wider industry change, the innovation will be made available for other companies to adopt.
The oral care brands partnered with multiple packaging manufacturers including EPL (formerly Essel Propack), Amcor, Huhtamaki and Dai Nippon Indonesia (DNPI).
Alan Conner, vice president-Europe, EPL, said: "When it comes to making oral care sustainable, it has been challenging to develop a product that is recyclable without adding extra plastic to the tube. EPL is a global market leading supplier of toothpaste tubes and is delighted to support this breakthrough innovation representing a major turning point for the oral care industry and is a key first step in reducing plastic waste, enabling consumers to minimize their impact on the planet. Given the size and scale of Unilever, their commitment to convert 100% of its global toothpaste portfolio by 2025 will unquestionably lead others to take action as well."
Samir Singh, executive vice president, global skin cleansing and oral care, said: "Plastic pollution is undoubtedly one of the biggest environmental challenges of our time. We can see its impact on our planet every day, including the billions of toothpaste tubes dumped into landfills every year. That's why I'm proud of this latest packaging innovation which will see our entire toothpaste portfolio shift to recyclable tubes by 2025. It's been a long and challenging journey to get to this point, but we hope this transformation will inspire the wider industry to also make the change."