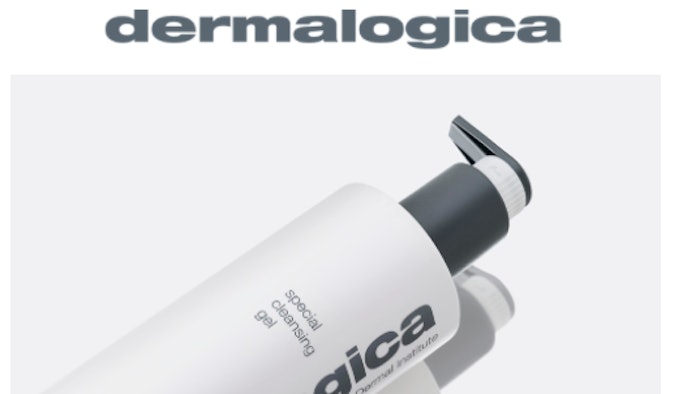 Dermalogica announced it is integrating mono-material pumps into its facial cleansers. The pump, developed in partnership with Aptar, is made from polyethylene and can be recycled with the bottle. The first Dermalogica products to feature its new recyclable pumps will be the 16.9oz sizes of Special Cleansing Gel, UltraCalming Cleanser and Clearing Skin Wash.
Related: UpCircle Beauty Updates Packaging for Coffee Face Scrubs
A study conducted by Wakefield Research suggests that sustainability is a significant issue for consumers, but the confusion of what is recyclable can be a barrier. The study reported that 74% of respondents said sustainability is a must-have when it comes to self-care products, but 42% indicated they would throw a product in the trash if they were unsure whether it was recyclable or not.
According to Dermalogica, an internal metal spring makes typical pumps difficult to recycle. The brand's new mono-material pumps utilize a plastic spring. The pump is also lighter weight, using less virgin plastic.
The packaging solution is a step towards Dermalogica's goal of having 100% of its bottles designed to be reused, recycled or composted by 2025. The brand is also introducing new bottles made from 50% post-consumer recycled (PCR) resin plastic.
Aurelian Lis, Dermalogica's chief executive officer, said, "The beauty industry has a pump problem. Pumps are increasingly used but widely unsustainable. Today, we aim to fix the problem. As the industry leader, we have an opportunity and a responsibility to make a positive impact, not just on peoples' skin, but on the environment. Being the first major skincare brand to launch these recyclable, mono-material pumps puts pressure on other brands to follow our example and innovate on behalf of the planet."