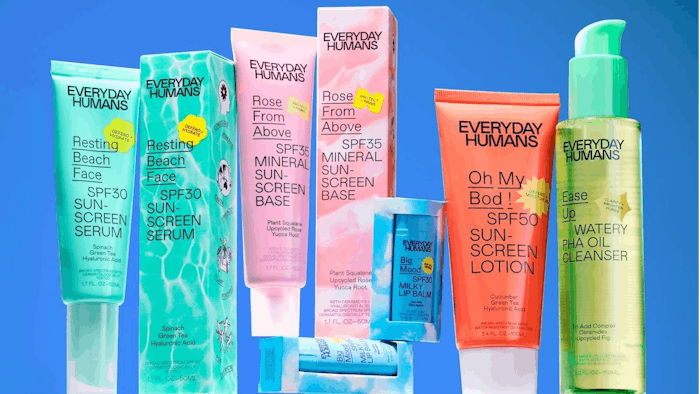 Everyday Humans has announced that it is joining Target's sustainable initiative Target Zero and will launch four of its sunscreens with the retailer's Target Zero Waste endcaps.
Related: Tide Ocean x Seacliff Beauty Partner on Sustainable Packaging Solutions
The goal of Target Zero is to replace single-use items with products and packaging that are designed to be refillable, reusable or compostable, made from recycled content or made from materials switched from plastic to paper, aluminum, steel or glass. Every product available at the retailer that is part of the Target Zero initiative will have a Target Zero icon on its packaging.
Everyday Humans is including the Target Zero icon on the endcaps for its Resting Beach Face SPF 30 Sunscreen Serum, Oh My Bod! SPF 50 Sunscreen Lotion, Big Mood SPF 30 Milky Lip Balm and Rose From Above SPF 35 Mineral Sunscreen Base.
Charlotte Chen Pienaar, founder of Everyday Humans, said, "We're thrilled to be one of the pioneer brands to be part of Target Zero as it's clear that we're united in the same goal of redefining the beauty industry and making it better for the planet, and for everyone living in it. Sustainability has been embedded in our DNA from the beginning, and it continues to guide every business decision we make. We appreciate Target's growing support of earth-conscious brands. From the start, we have never cut any corners when it comes to sustainability, so it feels surreal to get this recognition from one of the largest retailers in the country. It makes me hopeful that the tide is truly changing."